How to get free broadband for home schooling during lockdown
A government scheme is offering help for online learning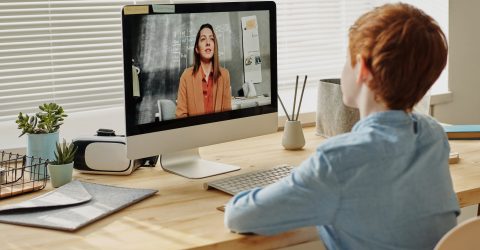 It's been over a year since the outbreak of COVID-19. And we can all agree that the pandemic has been harder than expected. While it's hard to accept that this is life now, adapting is the only way it's going to get easier. And affordable internet access is a big part of that.
Lockdowns could be a part of our lives for years to come. This will have a huge impact on not only businesses but schools, so the government should prepare for it. So with schools closed until March, the government has stepped in with a scheme to get kids online.
The 'Get Help with Tech scheme' aims to give free internet access to children in years 3 to 11. However, while it is free internet access, it isn't free broadband. The access will come in the form of free mobile data allowances and 4G routers. ('broadband communism' deja vu?)
MoreWhat's it like to live without the internet in the time of COVID?
This is a tricky one. While internet access is important, a 4G network can't sustain every school kid in the country for the next few years. Equally, the amount of data offered in some cases isn't enough to cover a week of remote schooling.
So cheap broadband is a more realistic and practical option for families affected by school closure. There are several affordable packages available on Broadband Deals starting from £18.99 a month. That's less than £5 a week!
So hopefully we'll see some even more affordable broadband packages from ISPs in the coming months.
How to get free internet access for home-schooling
You can get access to the scheme if you are a customer of: EE, Three, Sky Mobile, SMARTY, Tesco Mobile, Virgin Mobile, Vodafone and O2.
BT are also offering free wifi vouchers for access to their wifi hotspots. They have over 5 million hotspots in the UK which they say around 25% of UK homes can access.
If you want to use the scheme you can't just speak to your provider. You have to apply through your child's school. Again, this is another hurdle which might make things tricky. So, an affordable home broadband package directly provided to families in need would be the best option.
As we said, annoyingly you have to go through your child's school for the scheme. You will need to:
Tell your child's school which mobile network you're with.
State whether you're on a contract or pay as you go.
Provide the school with the mobile number you link the free data to.
Mobile providers say it can take up to 14 days to get you onto the scheme. That's if your child's school is able to get you passed onto the provider quickly too.
Am I eligible for free internet?
Not everyone is eligible for free internet access. The scheme is limited to the families who: 
Have no 'fixed broadband' at home.

Can't afford extra data.

Aren't able to access face-to-face education (due to school closures, shielding, or self isolation).

You also need a mobile to actually use the data.
This is difficult for the families who fall between brackets or are in areas with poor 4G and 5G coverage.  Not everyone who needs cheap internet access will be eligble.
The following mobile providers are taking part. (However, for some it's only available if you're on a monthly contract): 
EE 

Tesco Mobile

Sky Mobile

Three 

Smarty 

Virgin Mobile

O2

Vodafone 
Broadband = best
The data provided will be applied to the SIM card tied to that network. So you would need to tether a computer to the phone to use it.
However, a major downside to this is that some networks are offering a maximum of 20GB per month. A student on Zoom all day would burn through that in a few days. 
You could ration data to stretch it out, but if you have multiple kids off it's not feasible. Using cheap broadband and methods for getting the most out of your connection would go a lot further.
So realistically, looking at cheap home broadband packages is a better option.
Some offers available on Broadband Deals start from only £4.22 a week.