Easy ways to introduce messaging and video calling apps with older relatives.
Break down the barriers of lockdown using video chat!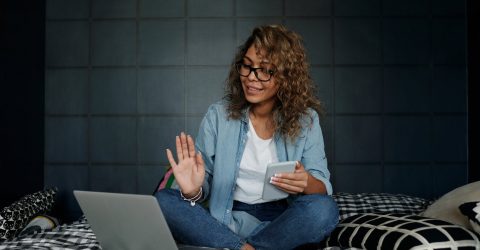 Video calling has become the most essential tool for staying connected in 2020. But for many, it's just another barrier between them and their loved ones.
With many businesses closed and people working less or furloughed, we have more free time than ever. So it's the perfect time to help bridge the gap between the elderly even if you can't be there in person.
PreviouslyThe best tech for connecting with grandparents
Here are a few tips for helping older people use technology to stay connected:
The group chat
WhatsApp is one of the easiest ways to stay in touch with an older relative. Many clubs and churches around the country are creating WhatsApp coffee morning groups to help keep the congregation connected. So it might help your grandparents or parents stay connected with friends and family.
It's easy to talk them through downloading WhatsApp onto their phone, or you can do it for them. Just remember to wash your hands and sanitize the phone if you do it for them.
Create a new group chat including them.
Start slowly, don't overload them with the barrage of messages you're used to in your own group chat.
Show them how to reply with voice notes if they have arthritic hands and find typing hard.
WhatsApp has their own tutorials to help users send voice messages or make video calls. If you're struggling to explain it yourself, show them these videos.
'Alexa, help me!'
While it's not for everyone, some older people are already big fans of Alexa or Google Assistant. This is because it's often easier to communicate with tech verbally, especially if typing or looking at a screen is difficult.
A survey by YouGov found that 1 in 5 smart-speaker owners were over 55. 'So what?' you might be thinking. Well, compare that to just 1 in 10 people aged 18 to 24 owning a smart speaker and you realise their popularity!
Some companies are capitalising on this popularity by integrating with Alexa. EE now allows you to make a mobile call using an Alexa controlled device.
So if your older relatives can't get to grips with new phones, Alexa could be there to save the day!
Just text the word "Alexa" to 150 on an EE device to set it up. Once it's activated whenever a call comes in, just say "Alexa, answer".
This is an easy one to teach to relatives. And you can even leave a Post-it note above their Alexa saying 'Alexa, answer' to remind them what to do.
DIY Gogglebox
Under many local lockdown rules it's almost impossible to have a traditional family dinner on a Sunday. But that doesn't mean you can't all spend time together!
MoreThe best add-ons for video calls
Google Duo allows up to eight people on a video call. WhatsApp allows up to four people. And if it's a special occasion or you have a big family Apple allow a whopping 32 people on a video call. Though you probably won't be able to get a word in edgeways. Though that might be normal for your family anyway!
Some families are even using group calls to watch TV together like a DIY version of Gogglebox.
Most video call services allow you to add people in to the calls, so your relative only has to pick up the phone and find you all waiting.
For WhatsApp:
Start a one-on-one video call with someone.
Select the "add participant" button at the top right of the screen to add in family members.
Then all your relatives have to do is accept the call ('press the green button Grandma!').
For Android / Google Duo:
Go to the Google Duo app then 'swipe up' to create a group.
Select the contacts you want on the call.
Then tap 'video call' so everyone can see each other.
Again, all your relatives have to do is answer the phone!
For Apple/ iPhone users:
Open Facetime.
Tap the 'plus' button in the top-right corner.
Type in the contacts you want on the call.
Then tap the video button to start the call.
On FaceTime the icon of the person speaking is highlighted – so it's easier to follow the conversation for if there are a few people on the call.