The best add-ons for video calls
Video calls might feel less awkward now, but they could still be easier. Here are the best add ons for video chats.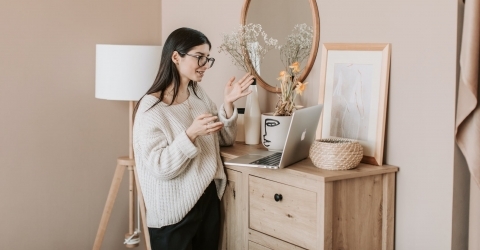 Love them or loathe them, it's safe to say that video calls are here to stay for the foreseeable future. For work, for family and for friends – we're now reliant on a handful of video call providers to keep in touch.
Six months into the COVID-19 pandemic we should all be seasoned pro's at using Skype, Zoom, Teams and Google Meet calls. We should also be noticing ways these services would work better for us.
Sick of your background glitching? Annoyed with clunky file sharing or screen sharing? Wish your presentations were more interesting?
Here are a few video chat add-ons to make awkward video chats….well, still awkward, but at least a little easier!
Mmhmm.
You're probably thinking 'Mmhmm, what?' But that's actually it's name! 'Mmhmm' is the answer to a lot of the visual issues you might have with video calls.
Mmhmm allows you to create slideshows which integrate with your background. The feature essentially makes you look like you're presenting the news, with a box on the top right hand side of the screen with your slideshow.
You can toggle between this mode and a full screen mode that allows you to fade out like a ghost. This also works for joint presentations, so multiple people can control the show.
In addition to standard slideshows, the slideshow function can also include photos, browser tabs, mirrored phone screens and even live video!
The custom backgrounds allow you more flexibility with your background if you want to camouflage your surroundings for work calls. The fake backgrounds available are convincing and much smoother than inbuilt versions.
Mmhmm is compatible with multiple video calling software, including Zoom, Google Meet, and YouTube live-streaming. It's incredibly easy to use with multiple programs. Just select it as your 'video source' when you're on a call, and then Mmhmm handles the feed you're broadcasting.
At the moment the app is free and in 'beta testing' and only available for Mac. However they're hoping to expand to PC soon.
Google add-ons
Meet Enhancement Suite
From a name that sounds nothing like a piece of software, to one that sounds like a parody of software names!
As the name suggests, Meet Enhancement Suite is a no nonsense add on to Google Meet. The tool works with Google Chrome to add extra tools onto Google Meet video calls.
A lot of the tools are small but useful features like keyboard shortcuts. The shortcuts allow you to answer at the touch of a button, mute other participants, turn the camera off/on etc…
A great feature is the automated captioning for video calls – handy if callers have terrible microphones or poor broadband signal.
Keen to make a quick exit from calls? There's even a keyboard shortcut for quickly leaving a meeting. So if you want to seem decisive or make a stern exit there's no more awkward fumbling exits.
Meet Enhancement Suite costs around £6 per month but there are yearly subscription prices. However, you can try it for free to see if it's worth it.
Google Meet Plus
If Meet Enhancement Suite is the no nonsense add-on, Google Meet Plus is the fun add- on. Like Meet Enhancement Suite, Google Meet Plus is a browser add on with extra tools for Google Meet.
You can use the free version, or pay for a Pro account to get even more features to use with Meet. On the basic, free plan you get functional tools similar to Meet Enhancement Suite.
Free features include push-to-talk shortcuts, do-not-disturb mode, and change the default Google Meet background. You can also set a status or broadcast a sort of Meet voicemail message. However these features need everyone in the meeting to have Google Meet Plus installed.
If you pay up for a Google Meet Plus, you get access to fun features like  communal whiteboards, sticky notes, breakout rooms, instant polls, and more.
It could be worth holding out, as Google has some of these features in development itself. (In an effort to catch up to Zoom) But if you're impatient you can get them now with Google Meet Plus.
There's a 3 day free subscription, prices then start from around £5 a month.