How to optimise WiFi connections in old buildings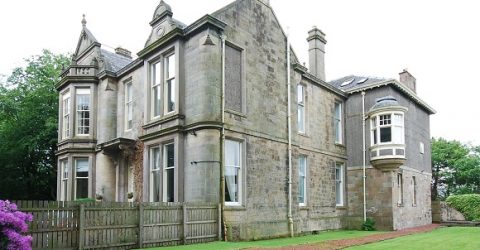 The UK has an extraordinary legacy of different architectural styles and construction materials.
In the 20th century alone, we saw homes being built using brick and stone, as well as non-standard construction techniques like pre-cast concrete panels and timber frames.
Further back, our architectural heritage is equally diverse, from Tudor cottages in the West Country to Aberdeen's granite tenements.
Indeed, 19th century homes are among our most cherished properties, from the Georgian terraces of London and Bath to the sandstone Victorian villas of Glasgow and Shropshire.
These properties were robustly constructed using dense natural materials, often sporting thick walls both internally and externally.
And that makes them uniquely challenging in terms of getting broadband installed…
Set in stone – and brick, and granite
Getting broadband installed in older properties combines the normal logistical and administrative account setup challenges with specific physical obstacles.
It can take a diamond-tipped drill bit and a mains-powered drill with a coolant tank to punch a hole through a granite or stone wall.
This often prevents owners of older homes from relocating their broadband router away from the existing main telephone socket, wherever it was originally installed.
But for the same reasons, master sockets are often found in a hallway or at one corner of the property, where the installing engineer identified a path of least resistance.
And since most broadband services are self-installed by residents, with hardware posted out in a cardboard box, this may not be an ideal location for a wireless router.
MoreHow to improve your broadband in rented accomodation
For one thing, a broadband hub in a corner hallway could be quite distant from an attic bedroom.
For another, there may be several walls between the router and the furthest room. Solid materials like brick and stone are unyielding to radio frequency signals.
Aspects of the building's design might cause interference, too, from metal sheeting to solid fire doors and heavy wooden beams.
Fortunately, there are things you can do when getting broadband installed in an older property, to maximise the chances of receiving a stable WiFi signal in every room:
Employ a phone engineer to pre-emptively relocate your master socket to a more central position, where the router has more chance of reaching every nook and cranny
Investigate whether your chosen provider offers mesh extenders, repeaters or other satellite units, which can be strategically positioned where needed around the home
Buy Powerline adaptors, connecting to the main router through shared electrical circuits. However, older properties may have multiple circuits, such as on separate floors
Replace your ISP's provided router. These are built to a budget and lack signal-boosting features like external aerials. Most broadband services will work with third-party routers
Set your router to 2.4GHz. This is a more congested bandwidth than 5GHz, but higher frequencies cover shorter distances, so 2.4GHz is more likely to reach distant rooms.