Is buying a new home the quickest way to full fibre broadband?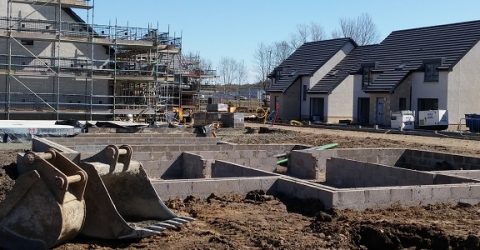 There are two main ways to get broadband in your home – along telephone cables installed by Openreach, or via underground fibre optic cables.
In many urban areas, ambitious new brands like Hyperoptic and Gigaclear are installing ultrafast (yet subterranean) broadband infrastructure.
Virgin Media is accessible from the majority of UK homes, using a combination of proprietary infrastructure and legacy cabling inherited from Telewest and ntl.
Cable broadband is generally faster than phone line services, which are often throttled by the presence of sluggish copper cabling between local exchanges and private homes.
MoreHow long does it take to get a new broadband line installed?
However, installing broadband in existing neighbourhoods incurs considerable costs.
Pavements are expensive to dig up, cables are hard to install around water and sewage pipes, and many newly-cabled residents may be quite happy with existing broadband provision.
Something old, something new…
For these reasons, cable companies often focus new investment on on estates which are under construction, rather than pre-populated with potential NIMBYs.
By working in tandem with developers, they can install subterranean cable networks quite cheaply, and without needing roadwork permits from the council.
When homeowners move in, they'll often want to set up a broadband contract, making this a perfect time to attract new customers.
This virtuous circle explains why over 60 per cent of new homes built in the UK are pre-cabled with full fibre broadband.
This percentage has doubled since 2016, reflecting the enthusiasm among cable providers for installing broadband in new homes.
It also means buyers of new-build properties enjoy some of the UK's fastest connections.
Watch your speed
According to research conducted throughout 2018, 52 per cent of new-build homes in the UK were equipped with Fibre to the Premises broadband from Openreach.
Another nine per cent had a different form of FTTP connection, such as Virgin Media's cable.
As less than half of homes in Yorkshire and north-east England enjoy full fibre connectivity, broadband in new homes may represent a shortcut onto the information superhighway.
However, there are one or two caveats.
Firstly, your choice of supplier may be limited if the cabling isn't installed by Openreach – which is suitable for any provider to access.
You'll also have to run down your existing contract, since broadband firms make transferring accounts easy. They won't cancel an existing contract because of an impending house move.
Finally, cabled broadband in new homes isn't a guarantee of ultrafast speeds.
While two thirds of new properties have connections capable of supporting download speeds of over 100Mbps, one in eight still achieves average speeds below 30Mbps.
Housebuilders may not be entirely forthcoming about likely speeds, so investigate line speeds in surrounding streets or adjacent postcodes using online search tools.
This will indicate prospective speeds for broadband in new homes which are still to be constructed or occupied.