Top 10 Time Saving Hacks for Windows
Save enough time with these hacks for a sneaky early finish!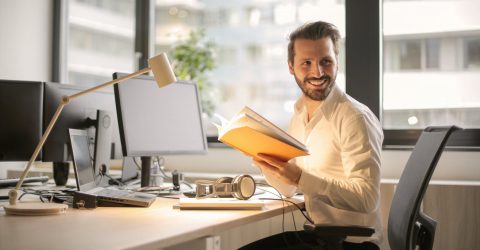 Working from home has it's benefits, but it can be tough to switch off come 5pm. So here's some Windows time saving tricks to give yourself a bit of extra decompression time at the end of the day.
1) Start right
One issue a lot of people have with Windows is the time it takes to start up. This can be caused by having a lot of apps set to load when you power up. Go to 'Task Manager' window (ctrl+alt+delete), select the 'Start-up' tab to edit programs that load up as Windows starts up.
2) Background bother
Lots of programs running in the background will cause your computer to slow down. You might be surprised to see so many programs running in the background. So unless you're using every program you have running in the background you should close some. Press ctrl+alt+delete or right-click on the taskbar and choose Task Manager. Go to 'Processes' to see what's running thn right-click on the programs listed to close them.
3) Speak up!
Siri was the first, but don't forget Windows' Cortana. She isn't quite as graceful or smart as Siri or Alexa but if used right she can save you some time. Click the Cortana logo on the right of the taskbar and get chatting
Cortana isn't the only way you can use your voice. You can set up voice dictation rather than typing through Windows' dictation system. Press Win+H to launch the 'dictation toolbar' and start speaking. Just remember to speak clearly!
4) A la carte menu
Sick of having to scroll through a load of programs you never use? Good news, you can customise your start menu by adding your most-used programs or folders. To choose which apps or folders appear in your 'Start' menu right-click on an app / folder and pin it.
5) Taskbar pinboard
You can also customise your Taskbar in a similar way. Right-click on any program or folder, choose 'More' then 'Pin to taskbar'. Or if you don't use a pinned app in the Taskbar, right-click on a taskbar icon to remove it.
MoreIt's time to upgrade to Windows 10
6) Windows management
Organising your windows can save a headache if you struggle with juggling lots of windows for work. Right-click on a blank area of the taskbar and you can select from options to cascade or place windows.
Unexpectedly asked to screen share in a Zoom meeting? Then you'll want the ability to hide your windows quickly. Just right click on the bottom right corner of the desktop and everything will minimize.
7) Clipboard clout
This is an absolute God tier tool if you do a lot of copy and pasting. Windows offers a 'clipboard history' option, showing a list of items you've recently copied. Just click 'Win+V' to have your mind blown.
8) Time saving time travel
If you've recently returned to work after furlough, you might need a bit of extra help getting back into a flow. Timeline is a great tool for helping you retrace your steps on Windows. Press Win+Tab on your keyboard to bring up Timeline and see a list of recently opened documents, programs, messages etc.
9) Customize mouse buttons
Even if you're using the cheapest, most basic mouse you can still level it up through settings. You can change the function of the mouse buttons from to your own custom shortcuts through the settings menu.
10) Use your keyboard
Keyboard shortcuts are the most underused time hack on computers. Some classic ones like Copy 'ctrl+c' are well known, but here are a few you might not know.

Lock your PC: Windows logo key + L.
Switch between open apps: Windows logo key + D.
Maximize Window: F11 or Windows logo key + Up Arrow.
Task View: Windows logo key + Tab.
Alt + Tab – Switch between open apps.
Alt + F4 – Close the active item, or exit the active app.
Windows logo key  + L – Lock your PC.
Windows logo key  + D – Display and hide the desktop.
F2 – Rename the selected item.
F3 – Search for a file or folder in File Explorer.
Shutdown options: Windows logo key + X.