How to watch BT Sport on broadband with Sky, TalkTalk, Plusnet, Virgin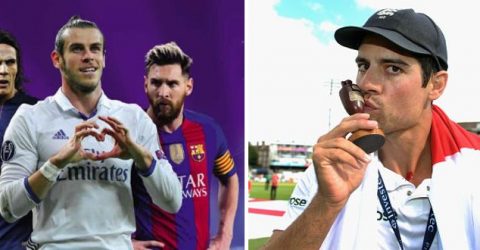 If you want to watch BT Sport there's a host of options – free and paid – from apps on your phone to streaming on your TV with your broadband deal.
In recent years, Sky's dominance of live sports coverage has been challenged by BT Sport.
BT hit the headlines two years ago when it paid £960m for three years of Premier League football rights.
It's now bought the rights to other high-profile sporting events, including the England-Australia Ashes tour, positioning BT as a serious rival to Sky's market-leading sports coverage.
How to: Cast BT Sport from your mobile to your TV
What does BT Sport include?
BT Sport is a monthly subscription service broadcasting the Ashes, the UEFA Champions League, Aviva Premiership rugby and the World Rally Championship.
It also covers fringe sports like MotoGP and UFC.
The full BT Sport package includes three main channels, all available in HD or standard definition, a boxing channel called BoxNation and BT's version of the American ESPN network, plus six BT Sport Extra channels that occasionally broadcast live sporting events.
How is Sky Sports different?
Until BT Sport was launched in 2013, Sky was the dominant sports broadcaster in the UK.
Its 10 sports channels were recently rejigged to emphasise individual sports such as Sky Sports Football, Sky Sports F1.
Fringe sports like darts and snooker are mainly carried on Sky Sports Arena or Mix, with high-profile events broadcast live on the Main Event channel.
Unlike BT, Sky Sports also has a 24-hour rolling news channel. Though its coverage is biased towards the sports Sky has broadcasting rights for, it's highly regarded.
What does BT Sport cost?
This is a tricky question because of the numerous channel combinations, introductory discounts and platform-specific deals on offer.
We've investigated all the broadband TV platforms currently offering BT Sport, listing available channels alongside an indication of likely costs.
These vary for new and existing subscribers, and our analysis might not include any short-term incentives currently being advertised.
We also outline how to enjoy BT Sport on the move.
Watch BT Sport on Sky
Sky is understandably reluctant to promote its arch-rival's content, and Sky customers have to visit the BT website to sign up for a BT Sport package.
If you're signed up to BT Broadband, you can receive the full service free on Sky for three months before paying £10 or £16.50 a month (SD and HD respectively).
If your broadband comes from someone else, signing up via BT still provides three free months followed by £25.99 and £32.49 monthly subscriptions for SD or HD.
There's a £20 activation fee for both packages.
Sky customers get to watch the three primary BT Sport channels plus ESPN.
Note: Customers will need the 9-digit PIN from their Sky set-top box to activate BT Sport.
Watch BT Sport on Virgin
Unlike Sky, Virgin is happy to provide easy way for its customers to get BT Sport.
BT Sport is included as standard with the £56 Full House bundle for 12 months, whereas Sky Sports is only available in the £91 VIP TV package or as a separate upgrade.
Virgin customers get the primary SD and HD channels plus both versions of ESPN, but BoxNation requires an additional subscription.
There's also a BT Sport Showcase channel, which periodically shows free-to-air events.
BT Sport can be added to the entry-level Player TV package for £18 a month.
Any subscription through Virgin enables people to watch online via the newly-renamed Virgin TV Go service on Android, iOS and Windows 10 devices.
Watch BT Sport with Plusnet
Plusnet customers with YouView TV get BT Sport 1 for free, but they can add the full package for £5 a month in SD (£8 a month in HD).
Subscribers receive all three primary channels, plus ESPN and BoxNation.
The Plusnet website enables lapsed Sky customers who've kept their equipment to sign up for BT Sport via their set top box, at a monthly cost of £9.99 (SD) or £12.49 (HD).
Plusnet customers happy to watch sport on their laptops or mobile devices can access the BT Sport app and online player for a combined cost of £5 a month.
If an existing Plusnet customer wants to add the YouView set top box they need to call Plusnet on 0800 0113 217.
Watch BT Sport on TalkTalk
Like Sky, TalkTalk make people sign up via the BT website once their TV package is already up and running.
Once TV is set up, select the BT Sport Channel in the TalkTalk TV Guide and a message will appear directing you to the BT website where you can enter your TalkTalk telephone number.
HD isn't available, but the primary channels and ESPN are provided alongside the six red-button BT Sport Extra channels.
Customers can also watch sports on mobiles or laptops by using the BT Sport app.
TalkTalk customers need a broadband speed of at least 6Mbps to receive BT Sport, at a monthly cost of £25.99. You can sign up for 12 months, which gives you three months free with a £20 activation fee, or pay for a month at a time with an activation fee of £35.
Get BT Sport on the move
BT Sport can be added to any BT Broadband account for viewing on computers or mobiles, with new customers receiving a discount on the standard £16.75 monthly fee.
Mobile networks like EE sometimes offer BT Sport bundles with certain contracts, but only for viewing on laptops and mobile devices.