Why your ISP's free email address could cost you
Free email addresses are bundled in with many broadband packages, but they often come with a sting in the tail if you leave that ISP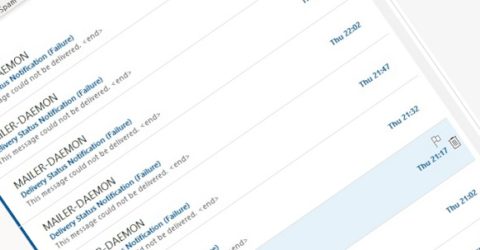 For better or worse, email has become an umbilical cord to the digital world.
An email address and password combination represents the default registration and login procedure for most websites, intranets, apps and online services like gaming portals.
Surprisingly, the average citizen only has two active email accounts at any one time, meaning each has to do a great deal of heavy lifting.
Imagine if one of those email accounts was suddenly withdrawn. Think of the issues you'd have logging into online portals, notifying those brands and firms, resetting your user details…
It might sound fanciful, but that's exactly what could happen if you come to rely on a free email address from some of the UK's biggest ISPs – and then decide to go elsewhere.
The hidden cost of free email addresses
The prospect of free email accounts is one of many tasty carrots ISPs dangle in front of prospective customers when attempting to sign them up.
And while you're a paying customer, ISPs are happy to cover the costs of server space, inbox scanning and the other unforeseen (but not insignificant) costs of hosting an email service.
When you're not a paying customer, that incentive becomes an unwelcome expense for the ISP.
Some accept this cost. Every @isp.com email message in someone's inbox maintains brand awareness, while using a proprietary email account might tempt lapsed customers back one day.
Other broadband providers take a more short-term view.
Under UK law, there is no obligation for an ISP to maintain email accounts on behalf of lapsed (and therefore non-paying) customers.
That's why the likes of Virgin Media will automatically close any email accounts held by a customer 90 days after they take their business elsewhere.
It doesn't matter how important that account is or how long it's been in service. Close your account, and Virgin will close your inbox three months later.
TalkTalk have adopted a different philosophy, by charging £5 per month for a proprietary package exclusively available to former TalkTalk Mail customers.
BT has taken a more nuanced route, providing a basic free service through a web browser. Mail is still delivered, but it can't be accessed through the BT Email app any longer.
Customers are charged a hefty £7.50 a month to maintain app access, alongside UK-based tech support and unlimited storage.
That adds up to almost £100 per year.
Fear is the key
According to market research, one in six UK adults is afraid to switch to a better broadband deal in case their email account is lost or begins incurring additional costs.
Indeed, it seems fear is a key factor in retaining custom. The £90 ex-BT customers would pay to retain email access could wipe out any savings made by switching provider.
As the industry's watchdog and regulator, Ofcom is rightly concerned about this.
It has been investigating the situation for some time, though nothing has yet been done to address it through legislation or penalties.
MoreWhy do broadband customers stay loyal to ISPs despite bad service?
In the meantime, it's well worth checking out a prospective ISP's policy regarding free email addresses when you sign up.
Some, including Plusnet and Sky, don't withdraw access or impose charges when a customer leaves.
You could also consider setting up mailboxes with the best free email providers in the UK.
Our recent guide explains what to consider when registering a free email service from a provider such as Gmail or Yahoo.