Freeview channels list – what TV can you get for free?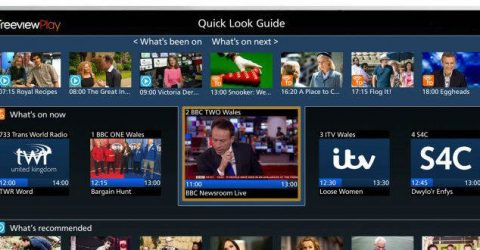 With 60 digital and 15 HD options in the Freeview channel list, there's a whole host of popular entertainment, news and kids programmes that come through your aerial for free.
Looking for an affordable TV and broadband deal??
Enter your postcode now to find out how much you could save.
While Sky and Virgin have dominated the pay TV market for over a decade, Freeview has continued to provide a no-cost alternative.
However, more and more households are cutting the cord and favouring streaming media services like Netflix or Amazon Prime over cable and satellite packages.
That makes Freeview vitally important for enjoying mainstream channels, but it also contains a surprising amount of additional content.
We've taken a look at the channels available on Freeview, to determine whether it can provides a viable alternative to the thousand-channel capacity of cable and satellite TV.
Who provides Freeview?
Firstly, it's important to clarify how you obtain Freeview.
This digital terrestrial television platform is accessible to 98.5 per cent of the UK population, providing they have a TV licence and an aerial.
TV manufacturers offer Freeview-compatible models, including Sony, LG, Toshiba, Panasonic, JVC and Philips.
MoreAre there too many TV channels in today's online age?
In fact, almost every TV sold in the UK after 2010 includes Freeview channels built-in.
If you need help setting up a TV with Freeview built in, you can find a helpful guide here direct from the makers of Freeview.
Freeview is also available from the following providers:
It's also available directly from Freeview, through set top boxes like the Freeview Play Recorder.
Which channels are available?
In recent years, HDTV services have been rolled out across Freeview, enabling people with modern TVs to enjoy the sort of picture quality previously reserved to Sky and Virgin.
It's important to note that channel lists occasionally change, so periodic updates of your set top box might be required.
Some channels vary by region – for instance, ITV is replaced by STV in Scotland.
Your ability to receive certain channels might also be affected by the quality of your aerial.
Below, we've listed the main channels people can expect to receive through Freeview. We haven't included fringe stations like Forces TV or Jewellery Maker.
All channels are broadcast in standard definition (SD), while some are additionally available in high definition, indicated below as HD.
Some channels have a duplicate station repeating their initial broadcasts one hour later, known as time-shifted or +1 channels.
1. Main channels:
BBC One, Two and Four in HD
ITV (STV in Scotland), available on +1 and in HD
Channel 4 (S4C in Wales) available on +1 and in HD
Channel 5, available on +1 and in HD
4Seven in HD
More4, Film4 and E4, available on +1
ITV2, ITV3, ITV4 and ITVBe, available on +1
5 STAR and 5USA, available on +1
Quest and Quest Red, available on +1
CBS Reality, Action and Drama, available on +1
Dave and Dave Ja Vu (+1 channel)
QVC and QVC Beauty in HD
QVC Style
True Crime, True Entertainment and True Movies
UKTV Really, Yesterday, Drama and Home
Pick
Spike
Food Network
Travel Channel
Challenge
Vintage TV
Various movie channels including movies4men, Horror Channel and Talking Pictures TV
Various music channels including 4Music, Sony Music, VIVA and Keep It Country
Various shopping channels including Ideal World, Gems TV, The Store and TJC
2. News and current affairs
BBC News in HD
BBC Parliament
Sky News
RT (Russia Today) in HD
3. Children's TV
CBBC and CBeebies, both in HD
CITV
Pop, Tiny Pop and Pop Max
Ketchup TV
Freeview also has various subscription-only channels, including Racing UK and six adult channels.
Not enough choice? We cover the full range of TV and broadband deals from BT, Sky and Virgin. If you don't fancy being tied into a lengthy contract for channels you only watch occasionally, you could also look at deals from Now TV Broadband – they will let you add and remove viewing passes whenever you fancy.