How to avoid any embarrassing Zoom call fails!
Avoid any mishaps on work calls or virtual pub quizzes!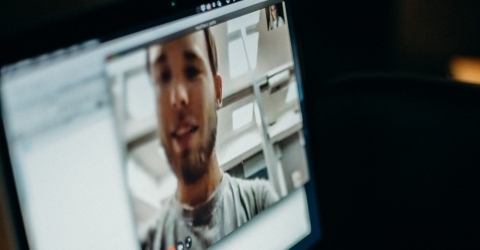 A thing I believed even before our whole working lives moved to video chat: the best way to end a video call is a sustained hand wave while hanging up. Clearly indicates you know you're on video but the call has concluded. It's not weird to cut off mid-wave 👋

— Lauren Gawne (@superlinguo) May 22, 2020
Bad call
We've all heard the stories and seen the tweets about lockdown Zoom fails. Just a few weeks ago, Jeffrey Toobin, a veteran political reporter at the New Yorker was caught 'in a compromising situation' on a Zoom call.
For some reason New Yorker staff were on a call roleplaying the American presidential election. During which New Yorker political analyst and lawyer Jeffrey Toobin was caught with his pants down. He has since, understandably, been suspended.
Why were a group of grown adult journalists doing Donald Trump cosplay and exposing themselves? Well we can't answer that, but we can give you some tips on how to avoid any embarrassing moments on Zoom.
Keep your pants on!
You would think it goes without saying, but apparently some of you still need to hear it! You should be wearing non embarrassing clothes, even from the waist down. Yes, even if you think your camera line stops at the desk. Yes, even if you have the camera set to shoulders up. You never know what could happen. Maybe your doorbell rings or your child rushes in while you're on a work call. Don't say we didn't warn you!
Pay attention to the guestlist
Unintended guests and 'Zoom-bombers' have caused a lot of issues in 2020! So first, make sure you keep your meeting password private and only share it with those you want to invite. And most importantly, you need to invite the right people! Here's how:
Click the orange "New Meeting" button and your meeting will start.
Find the toolbar that shows up when you move your cursor within the meeting window. 
Click on the little arrow in the "Participants" button. 
A window will open where you can invite your Zoom contacts. 
Your contacts can be sourced from several of your address books. These include; Gmail, Paypal, Messenger, Hangouts and Messages.
Or you can manually enter email addresses.
Getting your contacts from your address book saves any typo nightmares. But you'll need to double check that each address is correct if you know more than one Joe etc… 
Send an email with information on how to access your Zoom meeting, copy your meeting URL to your clipboard, or copy a longer message with your meeting URL and dial-in information to your clipboard. 
You can also find your meeting's password in this menu. 
When you're ready, click on the "Invite" button.
Mute mic / Stop video
It's hour 2 of a work Zoom call session. Things are getting desperate, you're dying for a brew. You're going to have to shout downstairs and order a cuppa from your partner/housemate/mum/cat. So you'll need to make sure you mute your microphone and/or turn off your camera. 
One trick to use is to have your Video and Microphone set to be turned off when you join a call. Here's how:
Open Zoom on your desktop. 
Click on Settings. 
Go to the Audio tab and select 'Always mute the microphone when joining a meeting' at the bottom of the screen. 
On the Video tab, click 'Always turn off video when joining a meeting' at the bottom of the page (under the Meetings heading).
End the call properly
Always make sure you leave a call properly before you start complaining about your boss or picking your nose.
To leave a meeting from Zoom on your desktop, select 'End' then 'Leave Meeting'. 
When selecting "End Meeting" as the host, a pop up will prompt you to "End the meeting for All" or to
"Leave Meeting". Well this is pretty self explanatory. If you're a host that wants to leave a meeting and let everyone else stay chatting, just select "Leave Meeting".
As for how to say goodbye properly, this seems like the best idea. It's certainly better than your colleagues seeing you dash to the loo in reindeer print pajamas from 2012!