How to make a custom background on Zoom.
Bored of your living room? Why not take a virtual trip?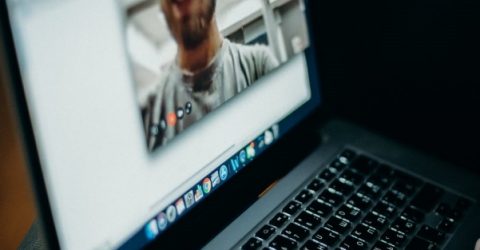 Lifeline.
Zoom has rapidly overtaken all competition during the COVID-19 pandemic. With so many of us working from home Zoom is now a lifeline for the personal and professional.
It's easy to use interface and vast array of free features make it a no brainer for small and large teams alike. It even allows meetings of up to 100 guests! Though we're not sure why, or how, anyone would need that!
It's undeniably a good time that for those of us lucky enough to be furloughed or working from home. We're all loving the lie ins and short commute to the sofa. UK workers now working from home are even estimated to be saving £44 a week in travel / lunch costs!
Problem.
However, while working from home is more comfortable and convenient for many of us there's one big issue. Video calls can interrupt the serenity of pajama working. Yes you can dress from the waist up, but what about dressing your house?
Many of us live with families or housemates and private space might be hard to find. The living room shambles with your housemate's gym gear might be a distracting backdrop. The kitchen sink pile up might raise questions on your Monday morning call. Sure you could go to your room, but do you really want your boss seeing your dirty laundry?
Luckily, Zoom has a magical feature designed to get around this and you don't need a green screen! They offer a background filter which keeps you in frame but allows you to set whatever background you want. (However this only works on Windows and macOS, so no mobile).
Another bonus is that the virtual background feature works even if there is more than one person in the frame.
How do I do it?
First it's important to know that to create a custom virtual background you will need a free Zoom account. You can join Zoom calls without an account but this feature is only available for Zoom account holders.
After opening Zoom click the settings icon towards the top right of the window.

Open the "Virtual Background" from the menu on the left hand side.

There will be some photo and video backgrounds available. You can click on one to download it and then apply the one you clicked on.

The background should now appear in the 'preview video'. You can return to your real background by selecting 'None' from the list of backgrounds.
I only wear custom.
This is the fun part:
If you want to have your own custom background photo, then click the + icon. Select 'Add Image' and upload an image from your computer. This means you could be living in a dream house or on a beach…well at least on Zoom anyway.
However you'll need to make sure your image meets Zoom's requirements:
Your background image must be a minimum size of 960 x 1920 pixels
With recommended dimensions of 1920×1080 or 16:9 aspect ratio
The maximum file size: 5MB
The format can be JPG, GIF and PNG.
(Don't worry, any transparent areas in a GIF will be displayed as white, not your real background.)
Video?
Yes, that's right you can have a video background! To do this you go through the same process as uploading a custom image background. Instead of uploading an image, you can upload a video (video files like mp4 are supported).
Someone even used this feature to prank their colleagues! They set a video background to make it look like they were bringing themself a cup of tea. They did this by filming a long video of their living room as a background before the call. A few minutes into the video, they entered the room and left tea on the desk. They then set this video as their background.
Have fun with that one at your next Monday morning meeting!