The best Black Friday deals might not be what they seem
Don't let the excitement of Black Friday leave you vulnerable to scams!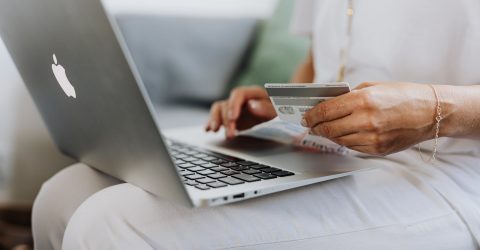 Black Christmas
Black Friday can save you hundreds on Christmas presents, but for some the price to pay is higher. From scams and fake reviews, to just straight up misleading offers, Black Friday could cost you more than you think. This year shopping online during Black Friday will be mandatory, because of England's latest lockdown. And with a huge surge in cybercrime during COVID-19 crisis, you'll need to be more vigilant than ever!
Here are a few things to keep in mind when you start shopping this year…
The best Black Friday deals might be in January!
In 2019, Which? found that 95% of deals were the same price or even cheaper in the months after Black Friday weekend! Big 'events' are a tactic stores use to create a sense of urgency so you're more willing to part with your cash.
The people who get the most out of Black Friday deals plan what they want to buy in advance. So keep an eye on deals throughout the year. This might be 'legitimate', but it's still a scam!
Watch out for fake reviews.
Amazon are constantly in hot water for their review system. Sellers have been found to give free products away in exchange for positive reviews. There was even a case in 2020 where a merchant had been sending products to dead people and leaving reviews in their name! So don't assume a high star rating is what it seems.
Take a look at the lowest rating reviews and see if the points seem legitimate. Look at the high ratings and see if they use similar phrases, they could be following a script.
Too good to be true? It probably is!
Between March and June this year, over £16 million was lost to online shopping fraud. And that's just in a couple of months! Cyber crime and online scam figures are soaring this year, due to the increase in people at home on the internet. A common tactic is social media advertising.
If you see a deal that looks too good to be true on Instagram, it probably is. So, for the best Black Friday deals, make sure to only use reputable sites and brands and read reviews thoroughly.
Better yet, support a local business that might be selling their products or vouchers online. Jeff Bezos is rich enough already!
(Dangerously) good Black Friday deals
In a 2020 Which? Study of 250 online purchases, 66% of items were 'dangerous or unsafe'. The investigation focused on products from online marketplaces like Amazon or eBay. So one way to avoid this entirely is to just buy straight from the brand's website or a trusted retailer.
So if you're considering a Black Friday deal from a new brand, do a little digging to make sure it's safe.
And most importantly, know your rights.
Websites like Moneysavingexpert.com or Which? can let you in on loopholes and laws which could save you money. They can also clue you in on your rights if you were to fall foul of a dodgy deal. Buying something for half price doesn't leave you with half the rights!
Reassurance
It's not all doom and gloom – of course the majority of deals are perfectly legit! One of the best ways to be assured is to shop with trusted sites.
Not to blow our own trumpet, but BroadbandDeals.co.uk offers Ofcom approved price comparison, so our Black Friday deals on the biggest broadband brands can be trusted!