Not so fresh...
Please be aware that some or all of the information in this article is out of date.
Any deals mentioned may have changed or may no longer be available.
Skint? Here's the best student broadband deals on the market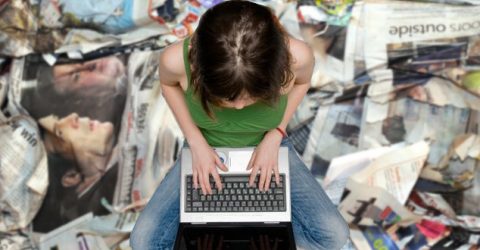 Being a student is hard work, we all know it.
Sleeping in until midday is no easy task, and those pizza boxes in the living room aren't going to scatter themselves.
Yes, student life is tough, and with so much going on, the last thing you want to worry about is choosing the right internet provider.
Whether you're a precocious first-year looking to save money for beer, or a mature second-year finally taking the plunge, these are the best student broadband deals available for all your social (and educational) needs.
Now the only thing you'll have to worry about is how quickly your student loan evaporates.
The basics
There are two main types of broadband available: traditional ADSL (up to 17Mbps) and fibre broadband (38Mbps and up) services. Fibre broadband is the most popular choice these days as it allows you to download, stream and game at the highest speeds.
Most towns and cities have access to fibre broadband, but it's still worth checking what's available before setting your heart on a particular ISP.
BTW – you can save time and check if your new halls fall in the right area for fibre by banging the postcode in this handy box. It'll bring up a list of exactly who offers the fastest speeds in that area.
Most providers will charge an inclusive line-rental fee as part of a broadband contract. This usually adds around £15-£20 to your bill and is sadly unavoidable. Even fibre cables have to connect to a BT telephone exchange in order for you to receive your service. Think of line-rental as a sort of middleman fee.
Broadband providers don't typically offer student-exclusive packages, but that's why we're here to spotlight the best student broadband deals.
The cheapest broadband on the market starts in the region of £18 a month and may look appealing, but will involve data limits, and certainly won't look as solid when the whole house is trying to use it all at once.
Once you've chosen, there may be a long wait for installation. Make sure to make arrangements in advance – a few weeks if need be – or else you'll risk being out of the loop come freshers' week.
Most companies will charge an installation fee for connecting your service. It's always wise to check beforehand whether you need installation, as your phone line may already be configured to receive broadband.
All of the comparison tables on BroadbandDeals.co.uk tell you exactly what you'll get charged up front, including whether there's any router or set-up fees.
Contracts
If you don't have your eye on the ball, picking the wrong deal could mean being tied to the same provider for 18 or even 24 months, which is hardly practical if you're going to move out at the end of the year.
Long-term contracts can also be costly, as you may incur hefty charges if you decide to terminate your agreement. Different companies have different cancellation fees, make sure you check to see if it's worth paying for the last few months.
Some providers offer 9 or 12 month contracts, which are more useful for student lettings.
For those who don't like to make commitments, many providers also offer a range of one-month rolling contracts, which can be cancelled at short notice, giving you a little extra leeway until the next student loan installment.
If you decide to stay with the same provider, be aware that prices may be increased after the initial six or 12 months ends. In most cases, it will be better to switch suppliers when you reach the end of a contract so they don't keep hiking up the prices.
Data allowances
Making sure you get the right amount of data is super important. Don't be stingy: the more you need, the more you'll pay, and splitting the costs with your new housemates is still worth more than skimping on price.
If you're living alone or sharing with a couple of friends, you can probably get away with less data than if you were sharing with eight other people.
Streaming a film in HD eats up about 4GB of data, and an hour of online gaming about 50MB, so make sure you have the enough to finish that epic multiplayer session without hitting your limits.
Packages with data limits are fine, if you can stay within your allowance, but if you're a heavy user or sharing with someone who is, it's probably a good idea to choose an unlimited contract.
While we're at it, just because an offers says it's 'unlimited', don't assume there are no restrictions or hidden fees. Most unlimited packages include a 'fair use' policy, so make sure you check the smallprint before embarking on a 12-day Netflix bender.
If you find yourself regularly exceeding your data limit, you could be in for some nasty fees, which will inevitably cost more than if you'd plumped for the better package. You have been warned.
Download speeds
I know it's a crazy idea, but imagine you've left it until the last minute to hand in your final assignment, the whole year rests on this hastily-written essay, but just as you click 'submit', your connection is lost. Turns out Xbox Live is hogging all the bandwidth, and your assignment is handed in late as a result.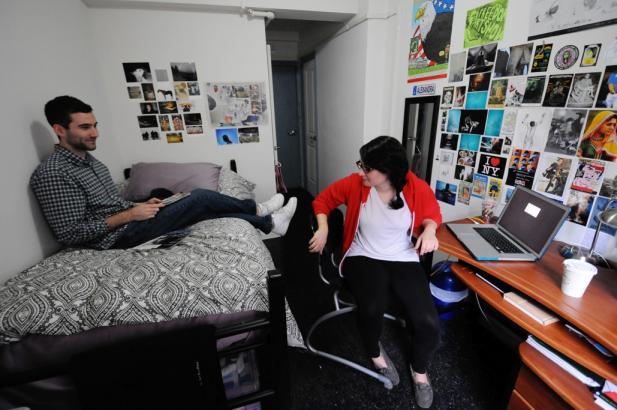 Not the end of the world, you might think, but without a passing grade, your life spirals out of control and before you know it, you're squatting in a puddle, drinking nail varnish remover out of a paper bag, while your successful friends (who shelled out for a decent connection) walk past and pretend they haven't seen you.
Okay, that might be an exaggeration, but it's important your connection is fast and reliable, you're paying for it after all.
Hardcore gamers will be more interested in upload than download speeds as tiny delays in connecting with multiplayer servers can cause unwanted lag. It's always wise to check.
Advertised speeds are not a guarantee, and you may find your connection being slower than expected. Providers usually get around this by offering speeds 'up to' a certain limit. Generally speaking, fibre broadband offers faster and more reliable service.
Different postcodes will have different speeds. This may mean having to compromise on which provider you choose, but you can still find the fastest broadband in your area. Word of warning: if you go to uni in the middle of nowhere, superfast services may be unavailable.
Enough babble, show me the deals!
Okay, so you you're fully prepared, and you've shrewdly budgeted for the year (you can live on Pot Noodles, right?) now let's look at the best offers.
Plusnet Unlimited Broadband
No Broadband Package

No Landline

Month Contract
Download speed: Up to 17Mbps
Details: One-month rolling contract, £31.99 per month: £5 for broadband; £18.99 line rental; £8 calls. £50 activation fee
Pros
No data limits and with free anytime calls included.
UK-based customer service, available 365 days a year.
Cons
No TV bundle included.
At 17Mpbs there are faster speeds available.
Get Deal
NowTV Unlimited Fab Fibre broadband
Download speed: Up to 38Mbps
Details: One-month rolling contract, £32.99 per month: £5.01 for broadband; £17.99 line rental; £9.99 TV. £44 activation fee
Pros
Includes one month Sky Cinema pass.
Easier out with a one-month rolling contract.
Price only slightly higher than Plusnet, for double the speed.
Cons
Package doesn't include phone calls.
There are many faster services available than 38Mbps.
Get Deal
Virgin Media Vivid 100 Fibre
Download speed: Up to 100Mbps
Details: One-month rolling contract, £38 per month: £20.01 for fibre broadband; £17.99 line rental. £65 activation fee
Pros
Superfast broadband for only £5 more than NowTV.
Free photo prints from Snapfish.
Cons
No TV or phone bundles included.
Expensive activation fee means a pricey first month.
Get Deal
Virgin Media Vivid 200 Fibre
No Broadband Package

No Landline

Month Contract
Download speed: Up to 200Mbps
Details: 12 month contract, £38 per month (first 12 months): £19.01 for broadband; £17.99 line rental; free calls; £1 TV. £20 activation fee.
Pros
A complete entertainment package, with free calls.
Includes 500GB TiVo box.
Cons
The first 12 months is only an introductory price, and will increase at end of the contract.
12 month contract offers less flexibility.
Get Deal
BT Unlimited Infinity 2
No Broadband Package

No Landline

Month Contract
Download speed: Up to 76Mbps
Details: 12 month contract, £48.79 per month (first 12 months): £26 per month for broadband; £18.99 line rental; £3.80 calls. £50 activation fee.
Pros
Get one of their popular £80 BT Reward Cards with the Get Deal link below.
Free evening and weekend calls.
Cons
Doesn't include a TV bundle.
Costs £9.99 P&P for the router and a £50 activation fee so you'll pay a decent whack of cash up front.
Get Deal
John Lewis Broadband Unlimited Fibre Extra
No Broadband Package

No Landline

Month Contract
Download speed: Up to 76Mpbs
Details: 12 month contract, £40 per month (first 12 months): £19.50 for broadband; £15.50 line rental; £5 calls.
Pros
No setup charges or activation fee.
Free anytime calls.
Cons
No TV package.
John Lewis broadband is provided by Plusnet, which itself is owned by BT. So it's basically BT.
As with the other 12 month contracts, the price will increase if you stay signed up.
Get Deal