Student Broadband Survey 2019
Study reveals students are slaves to the web, and traditional media may pay the price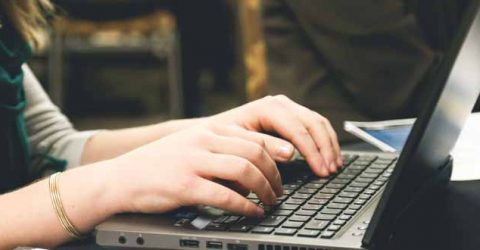 "Extremely online"
A September 2019 study of student internet habits has surveyed 1000 students starting or returning to university in September 2019. The study, conducted by OnePoll on behalf of full fibre ISP Hyperoptic, aimed to find out the extent to which students rely on the internet.
The conclusion is that students rely on the internet for, well, pretty much everything!
The study found that while students spend a massive (but entirely predictable) 55 hours per week online, only 14 of those hours are actually spent on studying.
With 88% of students agreeing that broadband is a "priority" when moving house, two thirds of students confessing they would "struggle without the internet" and 69% admitting that they "rely on the web", it seems particularly cruel that 69% of students wait over a week for their internet to be installed – and you thought the first week with new housemates couldn't get any more awkward!
A necessary distraction?
The survey broke down the main purposes for which students use the internet (outside of university work) and the results are fairly predictable. Streaming TV and films came top at 11 hours, with six hours on gaming, three hours on video chats, four hours for online shopping and two hours for 'adult entertainment'.
The results also painted a bleak picture for traditional media; with three in five students using Netflix and 44% of students believing films will only be viewed on streaming services instead of DVD and Blu-ray.
It's obvious that the amount of time we spend on streaming, gaming and video calls mean a reliable and relatively fast broadband connection is a priority for us all. For students though, it's an essential lifeline for maintaining relationships with friends and family back home or studying elsewhere.
Digital detox
It seems that while students admit the internet is more or less essential for their studies, they also struggle with the distractions that come with it; on average it takes just 51 minutes before students become distracted online with a third surveyed blaming social media.
On average the students polled were found to spend 14 hours per week on social media – that's the same amount of time spent on university work each week.
Students are willing to go to drastic measures to avoid distraction with a quarter of those polled confessing they have tried to block social media sites and accounts in order to focus.
Some students go one step further – one in five say they try to avoid online distractions by working in their university libraries. This might not be an option for much longer with 50% of the polled students students predicting text books will be replaced by online content within the next five years.
However despite using libraries as a solace from distraction only 15% of students polled said they used university computers regularly; this makes securing a reliable home broadband connection as soon as possible even more of a priority than you might think, especially with almost half of those polled (42%) stating that the majority of their university work relies on the internet.
Good news, bad news!
Ultimately the survey is just more bad news for real life (or IRL) 'media institutions' like cinemas or libraries, confirming their decline in business due to internet services.
On the other hand, at least it's good news for consumers! ISPs are responding to the need for flexible and affordable broadband plans for students which is reflected in the array of competitive deals and perks out there right now.