Broadband TV set to replace cable, satellite and terrestrial services
Online telly will soon see the end of satellite dishes and aerials mounted to the walls and chimneys of homes across the UK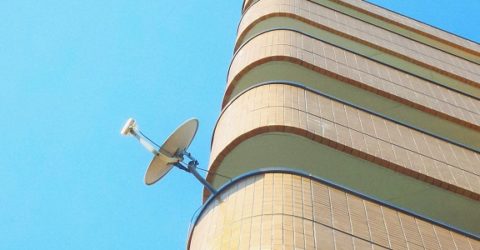 Until now, there's been a clear divergence between the provision of broadcast television content, and the provision of streaming content.
The former comes through aerials and dishes, distributed across the ether via satellites in space.
The latter is piped into our homes along telephone lines or fibre optic cabling buried beneath the pavement.
The divergence between these digital input streams has seen TV being bundled in with broadband contracts and landline services, in packages known as triple play.
(Add in a smartphone SIM card or two, and you're into the realms of quad play connectivity).
Yet a number of converging factors point to a future where broadband TV replaces satellite TV, and mobile networks carry terrestrial television content.
Stream of consciousness
The rise of streaming services like Netflix hasn't gone unnoticed by terrestrial and satellite broadcasters.
The BBC iPlayer service received over 1.7 billion streams in the first quarter of 2021. And unlike traditional content from Auntie, these streams were spread across tablets, smartphones and PCs.
Every broadcaster now has its own catch-up and on-demand service, lessening the imperative to record (or, perish the thought) watch live TV shows.
Missed The Gadget Show? My5 lets you catch up whenever you like. Fancy a bit of property porn with Kirstie and Phil? 4oD has you covered.
Then there's BritBox, which pulls together much of the finest content from all the UK's terrestrial broadcasters into a single streaming service.
Plus, in an age of Netflix, Amazon Prime Video and Disney+, you don't need to buy a copy of the Radio Times to find something decent to watch.
Little wonder that 57 per cent of UK households now have a Video On Demand subscription of one form or another, with Amazon Prime Video a surprising market leader.
Sky's the limit
Even Sky, who have championed satellite television since the late 1980s, are beginning to move towards an online future.
Their NOW TV service is hugely popular among people who can't (or won't) take out a Sky contract, with 57 per cent of subscribers sticking around for at least two years.
Since last month, Sky subscribers in Germany have been able to request a diminutive Sky Q IP box in lieu of the traditional set top box with its twin cables connecting to a satellite dish.
There are some limitations – it doesn't offer UHD, there's no recording function, and the Q IP line-up currently only features 80 channels.
Even so, the full Sky channel roster is present, alongside German staples like ARD, ZDF and RTL.
MoreA beginner's guide to Satellite Broadband
Critically, this service also encompasses the three American streaming giants mentioned a few paragraphs back, plus YouTube and Spotify.
Powered via WiFi or Ethernet, and only requiring a 6Mbps average download speed, Sky Q IP points to a fully online future for satellite television.
For now, the service is likely to appeal most to tenants and residents of listed buildings, for whom a dish installation may pose an insurmountable obstacle.
Yet its appeal will become increasingly mainstream as home broadband speeds increase to the point where streaming video content doesn't consume the lion's share of available bandwidth.
This is one reason why the UK Government has been pushing the concept of universal gigabit broadband, though our scattered rural population poses challenges to this noble ambition.
Even so, with television aerials already optional extras on new homes, it's easy to see broadband TV's on-demand availability eventually replacing terrestrial and satellite broadcasting.