Up to £100 reward card with BT Infinity fibre deals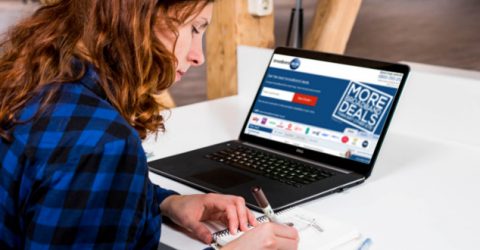 BT Infinity fibre deals are back on the table from the UK's largest ISP, with reward cards ranging in value from £80 to £100.
In this latest tranche of money-saving deals BT offer Unlimited Infinity 1 fibre broadband with download speeds of up to 52Mbps, or the faster version of the same deal, up to 76Mbps downloads with Unlimited Infinity 2.
These reward cards don't hang about and this offer in particular closes at midnight on Thursday 25 January.
They are prepaid Mastercards which are pre-loaded with a certain amount of money, and can be spent anywhere that accepts Mastercards (that's pretty much everywhere), including online stores.
There are a few exceptions: they can't be used to pay for gambling and they can't be used overseas, or to get cash out of an ATM.
So if you're on the lookout for BT Infinity fibre deals, now is the time to strike.
To each package you can add:
Unlimited Evening and Weekend calls for £4/month
Unlimited Anytime Calls can be added for £7.50/month (reduced from £9.50)
BT TV Starter package + BT Sport for £3.50 (plus activation fee)
Unlimited Infinity 1 and Weekend Calls
BT's entry-level fibre package should provide fast enough speeds to stream content for iPlayer and other catchup channels, as well as providing enough free WiFi bandwidth through the router to get everyone in the house online.
At £29.99 a month, it's competitively priced.
No Broadband Package

No Landline

Month Contract
Unlimited Infinity 2 with Weekend Calls
If you have to have the fastest fibre broadband available, then BT's Infinity 2 option is likely to be right for you. There's a £100 reward card on offer, which helps to bring down the overall monthly cost of this package. Sure, there are cheaper 76Mbps broadband deals available – Vodafone comes to mind – but if you need to add BT Sport for Ashes cricket or Premier League football, then there's only really one choice.
No Broadband Package

No Landline

Month Contract
BT TV Starter, Unlimited Infinity 1, Weekend Calls
This entry-level introduction to BT Infinity fibre and BT TV comes in at £37.49 a month. You get BT Sport included in the main deal.
No Broadband Package

No Landline

Month Contract
How to claim your BT reward card
Order and sign up to a new BT broadband deal.
Once your service is up and running, log in to the BT My Rewards page to activate your card.
You have three months to claim.
Once claimed, your reward will be sent to the same address where your new BT broadband is installed. It should arrive within 20 days of you starting your claim.