£75 Amazon Gift Card with Plusnet broadband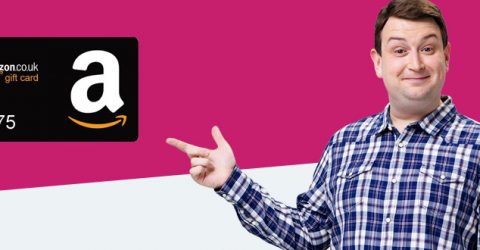 Here's a short-term offer you'll want to take a gander at: a £75 Amazon Gift Card with Plusnet 17Mbps standard broadband.
Now, it's only available until 31 October so you'll have to be quick.
There's three flavours of deal on offer – Plusnet broadband on its own for £22.50 a month, broadband with Evening and Weekend Calls for £26.50 a month, and broadband with Anytime Calls for £30.50 a month.
There's a £10 activation fee to be paid up front, and you'll be in contract for 18 months.
Plusnet took fifth place in the most recent Which? Best Broadband 2017 awards.
The Yorkshire brand was praised for its helpful customer service, reliability and value.
Just be aware. This isn't fibre broadband so you're not getting the fastest speeds on the market.
However if you're not a Netflix addict, or there aren't multiple laptops, tablets and phones in the house sharing the connection then these speeds will work for you.
Good for
One or two home devices connected to the internet
Light users
Checking email and Facebook
What you get
Standard broadband speed of up to 17Mbps
Free wireless router
£75 Amazon Gift Card
No Broadband Package

No Landline

Month Contract

Setup costs

£

0

£

0

(inc. new line)
No Broadband Package

No Landline

Month Contract

Setup costs

£

0

£

0

(inc. new line)
How to claim your £75 Amazon Gift Card
You'll receive an email from Plusnet with 10 working days, sent to the address you give when you sign up.
Open the email and click on the link. It'll take you to an online form where you can fill in your details and hit 'Submit'. The next screen will confirm that your card is on its way.
The email link is valid for two months from the date it was sent.
Once you have your card you can start spending straight away and there are no limits on what it can be spent on.
You should get your Amazon Gift Card within 30 days of getting confirmation that it's on its way.
Amazon Gift Cards are valid for 10 years from the date they were issued, so you don't need to worry about spending it straight away if you don't want to.
Just be aware that you can only use your Amazon Gift Card on the UK version of the website: http://www.amazon.co.uk. It won't work if you log in to the American site at http://www.amazon.com, or any other country (amazon.de, amazon.fr).
What if I've not received my Gift Card?
Check your email junk and spam folders.
Contact Plusnet direct – you'll need your account number and username to hand – call 0800 587 2013.
More help on Plusnet rewards FAQ here
This deal closes on 31 October 2017.