EE broadband deals and TV offers up to £125 Reward Cards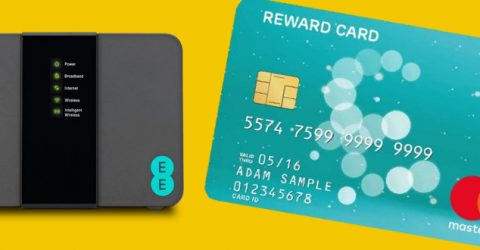 EE are laying out Reward Cards worth up to £150 on all new EE fibre broadband and TV deals in a bid to hoover up new customers this April.
Until midnight on 15 April anyone taking EE standard broadband with TV or fibre to the cabinet broadband with TV will get a prepaid Mastercard loaded with free cash.
You can spend this money however you like.
Fritter it away on eBay, buy yourself groceries, or treat your much-suffering other half to a slap-up meal, it's really up to you.
All Reward Card offers: See the latest EE fibre deals here
There are over a dozen deals to choose from, each offering standard speed or fibre broadband only, fibre broadband plus EE TV, or fibre broadband and calls packages.
What else do you get?
If you're already an EE customer on SIM Only or contract phone, EE will give you an extra 5GB of data a month to your mobile plan
12 months free subscription to Norton Security antivirus for your home computer
EE TV
EE TV adds £8 a month to your standard monthly price.
For that you get 70 channels free, and a rebranded Youview set-top box that lets you record and pause live TV.
With Replay on EE TV, you can set your box to record up to eight of your favourite channels simultaneously.
You can add pay TV channels like Sky Cinema or BT Sports on top of the standard EE TV package whenever you like.
Pro Tip: You don't get much more with EE TV than you do with a TV with Freeview built in. If you've already got Freeview in your telly, it might be worth looking elsewhere to grab those extra premium sports, kids TV or entertainment channels you're after.
More: Freeview channels – what TV can you get for free?
EE broadband deals with £50 free
The cheapest deal on the block is EE broadband only Unlimited Broadband, which starts at £21.50 a month on an 18 month contract for speeds up to 17Mbps.
You can add inclusive calls if you're a landline user, along with all the normal TV channel options.
Just be aware: if there's more than two of your in the house or you've got multiple devices you want to connect to your home WiFi, you'll want to consider fibre to the cabinet speeds of up to 38Mbps or up to 76Mbps instead.
No Broadband Package

No Landline

Month Contract

No Broadband Package

No Landline

Month Contract
If there are more than two of you using the internet at the same time, you'll want to consider bumping up your speeds to Unlimited Fibre Plus. You get a maximum of 76Mbps downloads on an 18 month contract, for £31 a month.
EE fibre deals
If you want that recordable TV box chucked in with your EE broadband deal, the lowest lay-out is a
£35 a month deal that gets you 70 Freeview channels and EE's 38Mbps fibre.
For the same price you could get EE Unlimited Fibre with Anytime landline calls and 1,500 minutes of calls to UK mobiles every month. The choice is yours.
No Broadband Package

No Landline

Month Contract

No Broadband Package

No Landline

Month Contract

No Broadband Package

No Landline

Month Contract
How to claim your £75 EE Reward Card
Once your broadband has been activated and you've made one bill payment, EE will send you an email within 30 days with instructions on how to claim.
You have 60 days from receiving the claim email to head online to EE's dedicated website and enter your order reference number. You will find this on your EE documentation email written out under 'DKI'.
You should get your card through the post to the address where your broadband has been activated. EE say this should take less than 30 days.
You now have a maximum of 90 days to activate your card online before you can start spending. Check your Junk or Spam folders if you don't get this activation email. You can request another activation email from www.purecard.com. You will get a PIN number for the card at the end of the activation process.
You can check your balance by logging in with your unique Card ID and passcode at www.purecard.com.
EE Reward Cards are valid for 12 months from the date of activation. Don't forget to spend it all before your 12 months is up or your free cash goes back to EE!
More help
If you haven't received your claim email within 30 days of paying your first bill, contact the EE Reward Card team on 0800 587 2297 or email broadbandhelp@eecard.co.uk.
If you have claimed online and your card hasn't arrived within 30 days of making your claim – or your card doesn't work – contact Cardholder services on 0344 800 6435 or email info@cardholdersvs.com.
EE not for you? Check out the cheapest and fastest broadband deals near you