Best Before:
28 / 09 / 2017
Please be aware that some or all of the information in this article is out of date.
Any deals mentioned may have changed or may no longer be available.
Mega price drop on Sky Broadband Unlimited to £15/month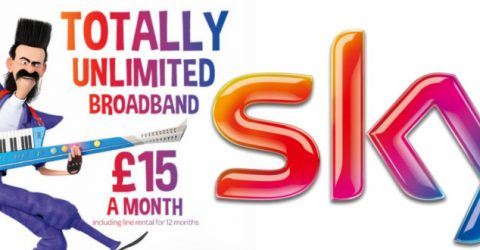 Sky has slashed the price of its standard broadband to offer the cheapest deal on the UK home broadband market.
Sky are calling the move their 'best ever' and it will appeal to scrimpers and savers, as it undercuts by £3.99 the previous cheapest home broadband deal by energy company First Utility.
Sky Broadband Unlimited has been cut from £28.99 to just £15 a month for new customers on a 12 month minimum contract.
The cost of broadband has been cut to zero, while line-rental is the only cost for the first 12 months, bringing in your monthly bill to just £15. It comes with landline calls package Sky Talk. As standard, Sky Talk is a pay-as-you-go service, so you only pay for the calls you make.
You can add cheap call packages on top if you need them: Sky Talk Evenings & Weekends costs £4 a month and gives you inclusive calls to UK mobile and landline numbers at evenings and weekends, while Sky Talk Anytime Extra is £8 a month for all mobile and landline calls any time of the day or night.
MoreGet cash back, free cancellation if Sky Fibre falls below 55Mbps
With Sky Broadband Unlimited you get no data usage caps so if you love streaming and downloading you'll never go over your limit.
It's standard ADSL broadband offering speeds up to 17Mbps; Sky say in their marketing materials that customers get an average of 11Mbps.
Prices for broadband will revert to the original prices £28.99 a month if you stay with Sky beyond the initial 12 months.
Just note that this cut-price deal is only available to new Sky broadband customers, and a set-up fee of £19.95 still applies.
The deal closes on Thursday 28 September.
No Broadband Package

No Landline

Month Contract

Setup costs

£

0

£

0

(inc. new line)