This deal is now expired. Please head over to
Featured Deals
for the latest offers
Vodafone offer £199 gifts with 'cheapest ever' broadband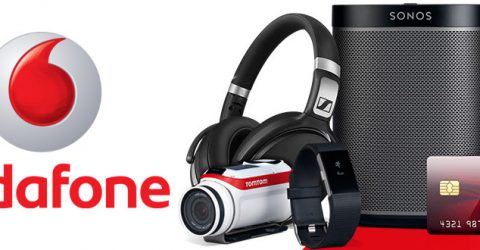 Vodafone are putting everything on the line to grab new customers with tech gifts, cashback and a sale on what they claim is their cheapest ever broadband.
Vodafone's Unlimited Broadband comes in three flavours, all with no limit on the amount of data you can use every month. Each is an 18-month contract.
You've got the ADSL broadband option, up to 17Mbps, for £18.99 a month.
One step up from that is Vodafone's lower speed fibre broadband, up to 38Mbps, for £25 a month. The top-level deal is Vodafone's fastest fibre broadband, up to 76Mbps for £30 a month.
No Broadband Package

No Landline

Month Contract

Setup costs

£

0

£

0

(inc. new line)

No Broadband Package

No Landline

Month Contract

Setup costs

£

0

£

0

(inc. new line)
What you can claim
Until 9 September 2017 every new customer with Vodafone Unlimited Home Broadband can choose their own fancy bit of tech, from Sonos speakers to Sennheiser headphones, to a £75 prepaid credit card.
The maximum value of each item must not exceed £199.
On offer are:
Sonos PLAY:1 Wireless Speaker (black or white)
Sennheiser HD 4.50 BTNC Wireless Headphones, Fitbit Charge 2 (black, small or large)
TomTom Bandit Action Camera
£75 prepaid Mastercard® card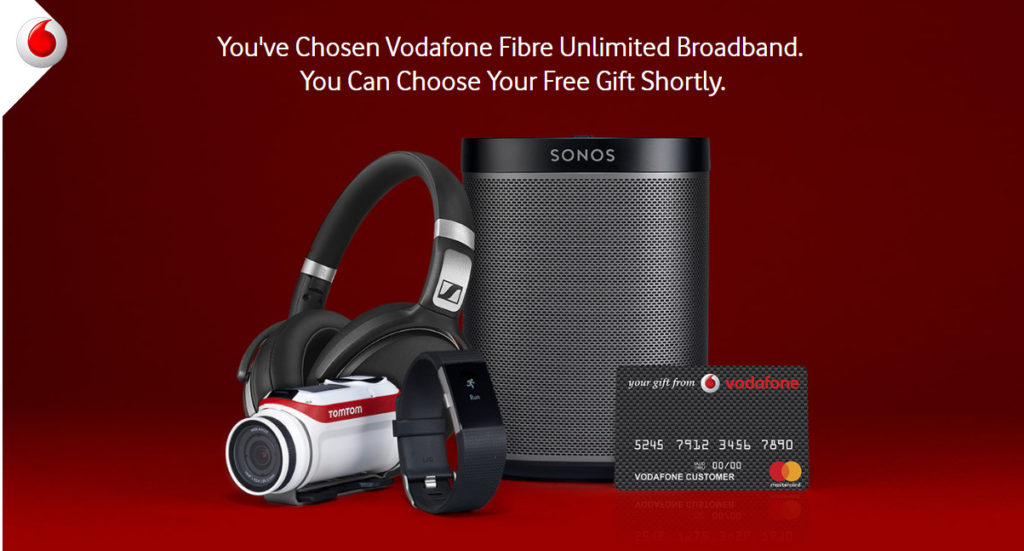 How to claim your gift
You're eligible only if you buy Vodafone Home broadband between 10 August 2017 and 9 September 2017.
The gift part actually comes after that.
We reckon not everyone will take advantage because you can't choose it when you actually buy the deal, you have to remember to do so from 24 September 2017 onwards.
From this date – and it's worth setting a reminder in your phone – you can log on to this website – and register for your free gift.
You can register once your Vodafone Home Broadband is active and you have completed a "30-day cooling off period". Vodafone say this is usually about 44 days after you bought your broadband.
You will need to provide your postcode, home telephone number and order reference (these will be shown on your Service Confirmation Letter) in order to be validated. Once validated Vodafone will send you a link by email to redeem the offer.
Anything else?
To sweeten the deal even more, Vodafone are offering a cool £100 credit to cover the cost of switching. Some home broadband providers will charge an early termination fee if you try to get out of contract with months left on your original deal.
Vodafone say: "Don't let your current home broadband provider's early termination fee stand between you and the UK's lowest-priced unlimited fibre broadband. Switch to us and we'll give you up to £100 credit to cover any cancellation charges."
Remember, the gift site where you have to go to register for your fancy new bit of tech opens from 24 September 2017.