TalkTalk price drop to £18.95 broadband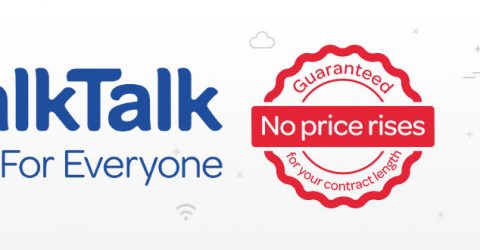 TalkTalk has cut prices yet again on its standard and Fibre to the Cabinet broadband, with the cheapest UK broadband only deals now just £18.95 a month.
Fibre to the Cabinet broadband comes in a £25 a month for up to 38Mnbps, while the faster variant of up to 76Mbps is now £30 a month.
It's not as cheap as Vodafone's fibre broadband, but comes with TalkTalk's much-touted Fixed Price Plan promise – the company will never increase your broadband price while you're in contract.
Usually TalkTalk contracts last 12 months.
They say: "We know it's important to be in control of what you're spending, month-on-month. That's why we're the only major provider to 100% guarantee that the cheapest broadband only price quoted will stay the same throughout your 18 month Fixed Low Price Plan. Even if our costs go up we won't pass them on to you."
Normally if an ISP increases your prices mid-contract, you're within your rights to switch away without paying anything – usually called a "termination fee" – for moving while in contract.
Guide: How to switch broadband for beginners
Add TalkTalk TV to your broadband for no extra monthy cost – just a one-off payment of £25 up front.
No Broadband Package

No Landline

Month Contract

No Broadband Package

No Landline

Month Contract

No Broadband Package

No Landline

Month Contract
Fair warning
Despite the attention of a national TV advertising campaign in heavy rotation, users tell us that they don't love the customer service at TalkTalk.
It got slated in the Which? Best Broadband 2017 lists and fell to the bottom of the pile in Ofcom's most recent UK broadband customer service review.
It's always worth doing your research. Saving a couple of quid a month isn't always the best option if you're more likely to be inconvenienced by poor service, broadband downtime or other frustrating complaints.
TalkTalk not for you? See the best broadband deals near you by entering your postcode