The best video chat platforms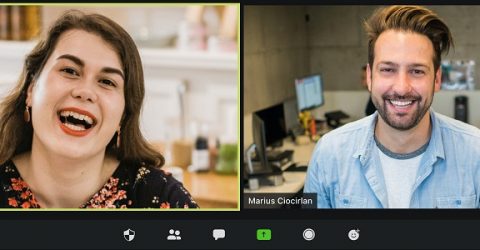 It's hard to escape video calls at the moment.
The technology underpinning services like Skype has been around for many years, but the lockdown has led to an unprecedented explosion in its deployment.
Departmental meetings, social worker appointments, family gatherings…they're all increasingly reliant on a laptop or tablet resting on a table or desk.
The phenomenon has even taken over television, from Gillette Soccer Saturday to Have I Got News For You.
As such, it's important to make informed decisions about the best video chat platforms, so you and your fellow callers can communicate reliably and affordably across any platform.
A beginner's guide to video calling.
If you've managed to avoid the video calling revolution thus far, there's little to fear.
This web-based communications technology is essentially a phone call accompanied by a video feed running (roughly) in tandem with the audio.
Instead of dialling a number, you tap a button to instigate a call, or click on a weblink to access a secure 'meeting' – effectively joining your computer to other people's.
You can have a one-to-one conversation, or join a group discussion with multiple participants.
The latter scenario can be complicated by latency – the delay between an action being made and a response being recorded.
This may lead to people accidentally talking over each other, or one person missing a chunk of dialogue because their internet bandwidth momentarily fell away.
The best video chat platforms work hard to minimise the impact of latency. Unlike the early years of this technology, you can usually make out what everyone's saying.
Video calling etiquette includes ensuring your webcam and microphone work prior to a call, avoiding garish or offensive backdrops, and positioning yourself centrally in the camera's view.
Having covered the basics, it's time to choose the optimal platform for your specific needs.
We've chosen several options, all of which will work equally well on a PC or Mac, Android or iOS device.
Skype.
Any discussion about the best video chat platforms has to include the daddy of this industry – Microsoft's Skype, founded back in the dial-up days of 2003.
Skype has a polished and customisable interface. Anyone can call anyone else through the platform, which is additionally compatible with landline and mobile numbers.
Key benefits: Dovetails with Office 365, real-time translation service, supports screen sharing.
Zoom.
Beloved by everyone from celebrities to Conservative politicians, this video conferencing platform involves logging into an online meeting set up by a host.
Meetings can be 'attended' by 100 participants, though anything more than a one-to-one chat becomes chargeable after 40 minutes. Zoom's security is also attracting some industry criticism.
Key benefits: Every participant is visible on-screen at once, equally suitable for business or personal calls, can record meetings to replay later for annotation or review.
Google Duo.
Pre-installed on most new Android handsets, Google has also made its software available to Apple users to challenge Facetime (which isn't on our list because it's platform-exclusive).
Specialising in one-to-one video calls, Duo is a sister app to Google's more workplace-focused Meet platform. Both are very reliable, since they use Google's vast global servers.
Key benefits: Pre-installed on many smartphones, shows live video of the person calling you before you answer for greater security, easy to use.
Viber.
Former Skype rival Viber has evolved in parallel with its major competitor, expanding into WhatsApp-style text chats and introducing emojis.
It also offers useful features like file-sharing, while it's compatible with platforms from Windows 8 to BlackBerry handsets.
Key benefits: Works on pretty much any hardware, supports file sharing, strong IM utility.
Facebook Messenger.
It's no surprise that the world's most popular social media platform should have its own video calling platform, permitting unlimited video calls between eight participants.
Facebook Messenger is more playful than other platforms. Its profusion of stickers, chat message tools and emojis means you probably wouldn't use it for a job interview.
Key benefits: Huge user base, intuitive to use, appeals to younger consumers.