Exploring the unexplored Google apps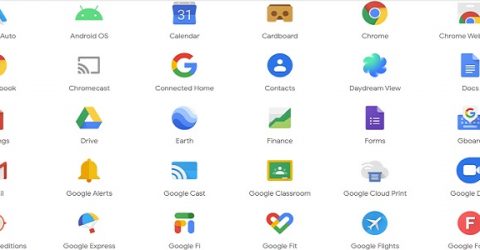 For everyone who has a Google account, there comes a time when you log in and click that square icon made of nine dots at the top right-hand corner of your home page.
You've been here many times before. This is where you go to find your calendar and photos and account information.
But if you're feeling adventurous, you may click on 'More' at the bottom of the app list.
The truly brave might even click on 'Even more'…
And suddenly, a brave new world opens up. Because many of us are still only scraping the surface when it comes to Google functionality.
There's probably at least one app in the Google collection that you've never tried, and don't know much about. There could be loads.
If you've ever wondered what happens if you click on those unfamiliar icons, read on…
Keep sake
One of the best things about Google apps is their ability to act as a holding space for most of life's mundane details.
The calendar needs no introduction. Many people are already taking full advantage of reminders and the ability to attach documents and maps.
But have you tried Google Keep? Distinguished by an icon of a lightbulb on a yellow background, it lets people make lists and scribble notes, before labelling or categorising them.
Keep allows you to set reminders by integrating with your Google calendar, colour-code items and draw doodles or add images. You can also save web pages and URLs.
It's great for replacing a sticky note, list-making utility or reminder app, because it's all of those things in one handy package.
Shop til your connection drops
As might be expected from the world's leading search engine, Google is very good at finding things.
Google Shopping is a tailored version of its iconic search functionality. Type in an item description, and it shows you items of that type available to buy.
If you type 'green hats with brims' into the search bar, a veritable cornucopia of emerald and jade headwear will be displayed, with prices and sites where you can buy them.
While it's hardly rocket science, Google Shopping is much faster than using the standard search page to shop. Plus, it occasionally turns up some real bargains.
As an aside, Google Books is basically Google Shopping for bibliophiles. It's great for finding e-books (including many free titles), previews and sources.
It's good to talk
Communication is another core feature of Google apps, despite the company having been stung by its unsuccessful Google+ social media platform, which was turned off in April.
Google Translate is the place to go when you need to translate the German language instructions on your new vacuum cleaner, or have a sudden urge to say 'hello' in Tajik.
Blogger is a long-established and well-respected blogging platform with integrated analytics, making it perfect for businesses or bloggers who like to watch their popularity soar.
You can also use Google AdSense to monetise your Blogger content.
Google Hangouts provides free video calling for up to 10 participants, alongside voice calls and messaging.
Google Classroom allows teachers to share work, lessons and feedback with their colleagues and students. It's part of G Suite for Education, which is now widely used in UK schools.
Anyone who has a personal Google account can now use Classroom without charge. If you have offspring (or if you study yourself) in a UK school, that's extremely useful.
Google Collections is a way of bringing together your favourite things, from pages, and recipes to ideas and photos. It lets you share them by sending a link, or posting to social media.
Google Duo gives you video calling for up to eight people, in tandem with video messaging. You can use it on the web and on your phone – even on iOS handsets.
And finally, there's Jamboard. This is derived from a piece of hardware Google launched a few years ago, which was basically a shareable electronic whiteboard.
Jamboard lets you create, store and share anything else you might do with a conventional whiteboard. You can even choose custom backgrounds, pens and shades of ink.
Given this treasure trove of hidden delights, there are bound to be some Google apps which have so far escaped your attention.
Those nine dots deserve further exploration, next time you're online…