Why we could get 5G via satellite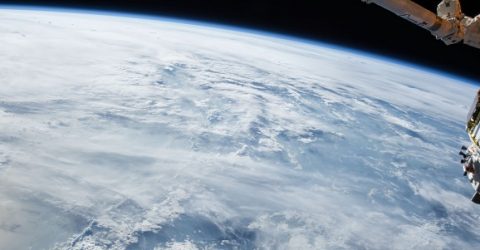 If you've recently acquired a 5G mobile broadband dongle or smartphone, you'll already have realised the limitations of its network.
The patchy rollout of 5G services across our major towns and cities reflects the challenges of ensuring almost 95,000 square miles of UK land receives consistent wireless data access.
It takes many years to erect transmitter masts in every corner of the land, especially when faced with access issues, planning restrictions and local NIMBYs.
That's before you factor in cost, or where this new technology can realistically be installed.
Even in urban areas, pavements are already festooned with lamp posts, exchange boxes and utility cupboards. There's precious little room for additional masts.
And given the high-frequency, low-coverage nature of future 5G bandwidth, there will need to be countless transmitters dotted around to deliver the promised connection speeds.
Since we haven't reached that point yet, 5G handsets constantly drop onto 4G, which rather negates the point of investing in 5G-compatible hardware.
The impracticalities of trying to create a universal ground-based cellular infrastructure have persuaded some people to look at distributing 5G via satellite.
And while it's early days, there's real optimism that 5G via satellite might be able to patch the inevitable blackspots in our terrestrial networks.
Passing over you like a satellite
A few hundred miles above the Earth's surface, inner space is crowded with satellites beaming down information.
In recent years, companies as diverse as Amazon, OneWeb, Space Norway and Telesat have unveiled ambitious plans for low earth orbit (LEO) satellite broadband services.
This is being aided by the rapid growth of satellite launching facilities. In the UK, these include Spaceport Cornwall and the Shetland Space Centre.
But if satellites can beam down dependable broadband to anywhere in the UK, surely they can do the same thing with mobile connectivity?
In fact, they already are, with satellites providing auxiliary connectivity for existing 2G, 3G and 4G mobile networks.
Five star
Despite its disappointing early performance, 5G has been in development for a long time. And so has the prospect of LEO air support.
Back in 2017, 16 firms including BT, Avanti and SES formed a body known as the Satellite and Terrestrial Network for 5G (SaT5G).
Backed by generous EU funding, SaT5G began integrating 5G mobile networks into satellite services.
The primary intention was to reach otherwise inaccessible locations like ships and aircraft, where conventional 5G networks could never hope to provide coverage.
However, there's obvious scope to extend these services to corners of the world (and the UK) where the prospect of 5G connectivity is equally forlorn.
Successful SaT5G trials have already been carried out, transmitting 5G via satellite and raising the intriguing prospect of surface infrastructure having an always-on backup network.
This would minimise any risk of the 5G network going offline, which could theoretically happen with a catastrophic power cut.
And since everything from autonomous vehicles to remotely-operated surgical instruments may eventually rely on 5G connectivity, outages simply can't be tolerated.
SaT5G sees satellite communications acting as an overflow for offloading traffic during periods of peak 5G activity, maintaining service continuity.
Broadcasting across the sub-6GHz spectrum, it's anticipated that the satellites would remain in geostationary orbit, fixed above densely populated regions like Western Europe.
GuideWhat are my options if I can't get fibre broadband?
From a consumer perspective, the end result would simply be seamless and always-available 5G services.
That's the dream 5G originally promised, and few of us will care how it's accomplished as long as it's ultimately delivered…