TalkTalk offers exclusive £80 reward to new fibre customers
The huge bonus is available to anyone signing up for a 'Faster Fibre' bundle through BroadbandDeals.co.uk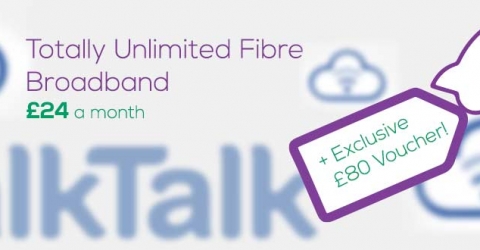 BroadbandDeals.co.uk customers can sink their teeth into some big savings this summer with an exclusive new deal from TalkTalk. If your contract is running out, or you're looking to upgrade to some quality fibre broadband, we've got quite the offer for you.
TalkTalk's unlimited fibre is now just £24 a month, with no setup costs or hidden fees. Even better is a free £80 reward card, only available when ordering through BroadbandDeals.co.uk.
That's £80 to spend however you want, and the cash is available in a range of options for maximum flexibility. Gift cards can be chosen for Argos, Amazon, and Tesco. Or if you want to spend completely freely, you can get your £80 in a prepaid MasterCard for use almost anywhere, online or in-store. However you like to spend, this gift can meet your needs.
BT have long been the king of ISP rewards, but now TalkTalk is sweetening their own deals with a hefty reward of their own, exclusive to BroadbandDeals.co.uk.
This offer ends on July 18, so don't delay in making the switch and grabbing your free money. Deals like this don't come around every day.
TalkTalk broadband has unlimited monthly usage, and a speedy 38Mbps average download speed. The reward is also available when bundling TalkTalk broadband with anytime call packages (including free calls to mobiles), and with a variety of premium TV packages.
For sweet fibre service, and even sweeter rewards, head over to our TalkTalk listings to find the deal that's exactly right for you.