Fear of losing home number puts people off switching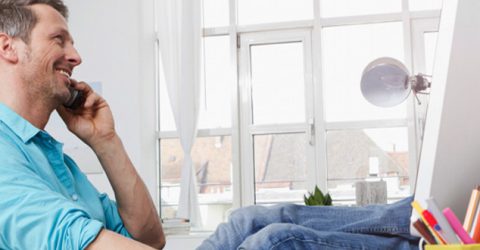 A recent survey shows half of all broadband users don't want to change provider because of concerns about losing their home phone number.
It shouldn't be difficult to keep your home phone number when switching broadband.
But research by ISPReview.co.uk reveals over 30% of the 1,100 people surveyed had lost their phone number when going through the switching process.
As more people now use their mobiles as their primary phone numbers, or even use VoIP services like Skype for their home calls, the value of the home phone number is certainly going down.
But according to Ofcom, service providers are obliged to let customers keep their phone numbers when they switch, as long as it doesn't interfere with the National Telephone Numbering Plan of area codes.
This means that customers moving house may have no choice but to change their number, but customers that are simply switching ISP shouldn't have this problem at all.
Why are people still losing their numbers?
Although Ofcom's rules force ISPs to offer a number portability service, the systems seem to be prone to quite a few problems. ISPreview.co.uk reports complaints about switches between BT and TalkTalk centered around TalkTalk refusing to release numbers until they've received a letter from BT requesting the switch, while BT claim it isn't necessary to do so.
It seems that, in the bureaucracy and poor communication between companies, ISPs have the space to say, "Not my problem", and leave their customers in the dust without their phone number.
A weighty 59.3 percent of the survey's respondents think that Ofcom isn't doing enough to improve the situation. If a customer is changing their ISP, and they're not moving house or switching network, there is no reason that they shouldn't be able to keep their phone number.
What can I do?
If fears over your number are keeping you from switching to a better deal from a different ISP, you will want to check out our FAQ posts for the latest advice.
---
Frequently asked questions
Can I keep my phone number when I switch broadband?

▼

Yes – it's not difficult for most ISPs to do, especially if your old provider and your new one both use the Openreach network to give you broadband. If you're changing between any of the main providers it's very simple – just ask your new broadband provider and they'll do it all for you.

It's a bit more technically complex with Virgin Media and the new FTTP providers as they build their own cable and fibre networks, so your phone number will need to be transferred to the new network again. However, that's not your problem – just tell them that you want to keep your number when you sign up for a broadband deal and they'll take care of the rest.

It's available as an option in the sign up process for most deals.

Can I keep my old phone number when I move house?

▼

THIS IS INCORRECT -BEN

Usually when you move home you will not be able to keep your old phone number.

The only exception is if you're moving to a new home within the same telephone exchange area.

Keeping your number in this case isn't always guaranteed, but most telephone and broadband providers will be happy to help whenever it is possible.

There are over 5,500 telephone exchanges in the UK.

If you are moving to a different telephone exchange area, then your home phone number will almost certainly have to change.

Residential phone numbers in the UK are tied to physical locations through area codes, so your phone number has to reflect the area that you live in.