Black Friday 2022: Pros and Cons of shopping online
The coming weeks will see a surge in spending - here are some points to consider when shopping online this winter.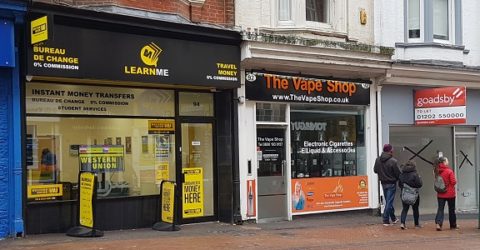 Now we're into November, there are only 50 days until Christmas. The nation's tills are starting to ring around the clock as consumers begin their festive shopping.
Or are they?
The coming winter could be unremittingly bleak, from spiraling inflation eating into disposable income through to a lack of essential goods caused by the war in Ukraine.
Millions of households are set to pare back festive spending, while seeking out bargains online rather than on their local high street.
Yet the latter could be inadvisable.
Online shopping brings a number of micro (for the individual) and macro (for the wider economy) effects, many of which you may not have considered.
As an example, consider the photo at the top of this page. Before the advent of online shopping, central Bournemouth was thriving. Now it looks somewhere between desolate and derelict.
To decide where you should spend your money this Christmas, we've summarised the main pros and cons of online shopping, starting with one that's especially pertinent here in 2022.
Pro: Cheaper prices
Online retailers minimise (or avoid entirely) many expenses associated with bricks-and-mortar stores. From rent to staffing costs, it's far cheaper to set up an online business than a high street one.
Online retailers can usually stock goods more affordably, using cheap warehouses on industrial estates or dropshipping overseas goods via third-party suppliers.
Con: Stealth taxes
It's not uncommon to add an item to your shopping basket and then discover it's 1p below the minimum free postage value. Many sites only add taxes/shipping/booking fees at the checkout stage.
Opaque online pricing feels dishonest, yet it's very common. By contrast, shops can't use underhand tactics to artificially manipulate the sticker prices of their goods and services.
Pro: Greater choice
Go into a shoe shop, and you might find your preferred style and size in stock. Check online, and it'll definitely be listed.
Even if stock levels are low, you could pre-order an item rather than having to visit multiple stores in the hope one has your desired/required item in stock.
Con: Returns are harder
If you buy something in-store and it's defective or unsuitable, you can generally take it straight back. This is more difficult online, especially when third parties become involved.
You'll need to contact the seller to request a refund or exchange, package it up, follow the stipulated returns procedure (often an automated collection point), obtain proof of dispatch…
Pro: A world of choice
If you don't mind the prospect of import taxes (and a potentially laborious returns process), you can access products from around the world.
This opens up new opportunities, especially for connoisseurs or people with specific interests such as foreign-language books.
Con: Items may not be as advertised
We've all heard stories of people being disappointed by online purchases which didn't live up to their billing in terms of size, condition, presentation or other factors.
It's often important to feel and test potential purchases in person, especially in terms of tactile items like clothing. A series of static photos won't offer much guidance about quality or fit.
Pro: It's more convenient
With a few clicks, you can order almost any item to your home. It'll often turn up the next day – or even later the same day in certain circumstances.
That might be hugely beneficial if you're housebound or chronically ill. Items are simply delivered to your door (or your chosen safe place if you happen to be out).
Con: High streets suffer
We all depend on local high streets to some extent, yet buying through (often foreign) online distributors takes profits and jobs away from our communities, neighbours and friends.
Many online brands are based overseas. They pay their staff low wages, avoid UK taxes through all sorts of sharp accounting practices, and hand their profits to shareholders.
In an age of growing austerity, that can feel like a slap in the face to hard-working retailers, especially startups and family-run businesses obliged to pay HMRC's going rates.