Broadband compensation up to £25 a day agreed
Ofcom has agreed proposals with four major providers to bring in an automatic compensation scheme for when home broadband goes wrong.
The scheme will see payments made to customers who suffer slow repairs, missed appointments or delays on getting their broadband installed.
BT, Sky, TalkTalk, Virgin Media and Oldham-based Zen Internet are the providers who have signed up to provide compensation of between £5 and £25 a day.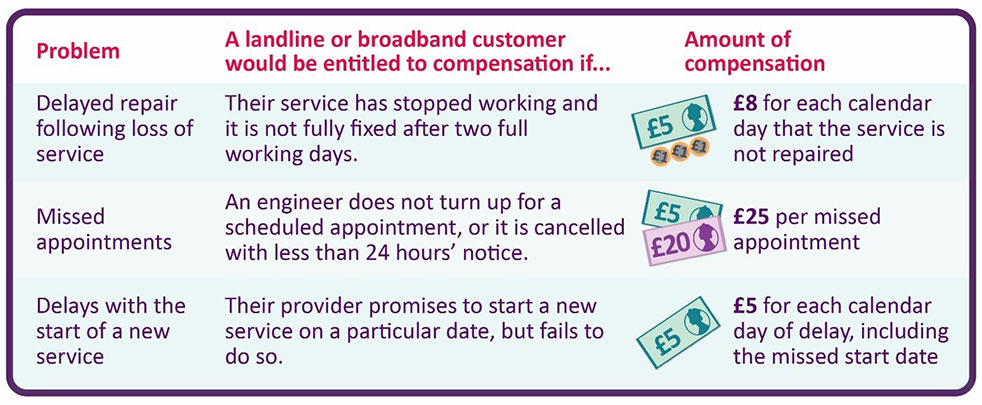 Customers won't have to make a claim. Instead, the compensation will be made automatically. It will come in the form of a cash payment or credit back on your next bill.
Many people are not getting the standard of service they expect, or being adequately compensated when service falls short, said Ofcom.
At the moment, around one in seven people who make a complaint about poor service get compensation.
Ofcom hope the cash penalties for poor service will force ISPs to make a better effort with customer service.
A quarter of people who have had a missed appointment said they took a wasted day off work to wait at home for a broadband or phone line engineer who never showed up.
Horror stories of repeat visits because engineers "brought the wrong part", or customers spending weeks without internet despite making repeated hour-long phone calls to their new ISP should become a thing of the past.
New research show engineers failed to turn up for a staggering 250,000 appointments.
Every year Ofcom deals with 5.7 million complaints from customers who have had problems with landline or broadband services.
And one in every eight broadband installations are delayed, affecting more than 1.3 million people.
At the moment, compensation payments are only given to around 15 per cent of people who complain. This amounts to payments of just over £16 million.
Ofcom's latest plan would increase these payments more than tenfold.
The automatic compensation scheme is set to come into force in 2019.
Find the best broadband deals near you by typing your postcode in the box below.