Call of Duty: WWII and Resistance DLC spike UK game sales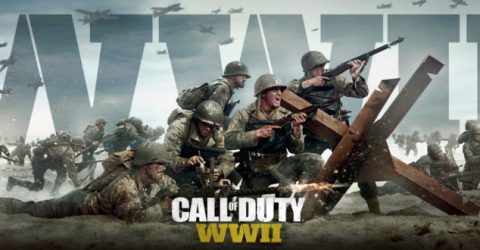 The release of Call of Duty WWII has helped prop up flagging UK game sales, with the first DLC for the title proving a huge success.
Call of Duty WWII follows the story of the 1st Infantry Combat Division in the European theatre of war.
Players control front-line soldiers as they take on the Normandy D-Day landings, waylaid by Nazi troops. But the biggest seller for this tentpole title is the massive mulitplayer experience where killing is easy and regenerating back to life is fast and free.
Only Super Mario Odyssey for the Nintendo Switch could hold to a candle to COD: WWII UK sales.
Still, the latest iteration of Activision's majorly successful series pulled in $500m in its first three days, and as of the start of January 2018 has 20.7 million players across Playstation 4, Xbox One and Steam.
Online gaming: How to protect your vital personal data
DLC saves the day
Call of Duty: WW2 The Resistance pack DLC dropped on 30 January with a new War Mode, the latest chapter of Nazi Zombies: The Darkest Shore, and three new mulitplayer maps to get war-fanatics a-frothing at the mouth.
Anthropoid: inspired by Operation Anthropoid, the Prague-based assassination attempt on a high-ranking German officer
Occupation: a remake of a classic Call of Duty original map, where players fight through the streets and shops of German-occupied Paris
Valkyrie: Mounted machine guns take centre stage in the Masurian Woods of East Prussia where the Nazi's attempted invasion of the Soviet Union for Operation Barbarossa is underway
Data from market analysts Kantar Worldpanel show that the overall market for UK physical video game sales has dropped by 8.8%.
While gaming enthusiasts shelled out an extra £6.8m on the latest titles, sales in general are on a slow decline.
Despite plunging revenue, games are still faring better than DVD and Blu-ray, which dropped by a whopping 21% compared to 2017.
Amazon is the first place players look for games but in a surprising twist, HMV took the top spot as COD: WWII sellers, churning out over a quarter of all UK sales for the title.
"As more and more shoppers upgrade their TV sets to accommodate 4K and ultra-high definition experiences, sales of 4K discs are also set to increase. With these new – and old – formats tickling shoppers' fancy, entertainment products could once again be the gift of choice," Moore added.
MAIN IMAGE: Sledgehammer Games