Church spires to be rented as 4G masts for better mobile, broadband and WiFi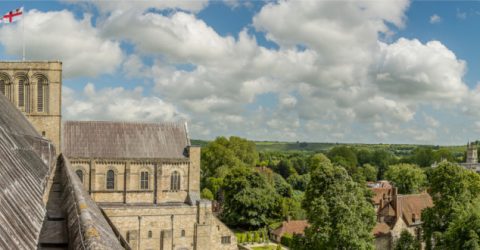 The Church of England has signed a deal with the government to provide church spires as locations to install new 4G masts to improve mobile signal in rural areas.
Announcing the news, Secretary of State for Digital Matt Hancock MP said the move would boost the quality of mobile signal in the countryside as well as providing faster mobile broadband and WiFi internet for local people.
If the idea goes well, Hancock said his department would look at potentially linking up with leaders of the Jewish and Muslim faiths in England and Wales to see if synagogues or mosques could also host 4G mobile equipment.
Since 2011 the Church of England has allowed telecoms businesses to set up 4G masts inside crumbling and underused church spires.
Some parishioners have expressed fears that allowing private companies to take over church spires would mean a wholesale devaluing of the faith in England.
But church leaders say that decent mobile signal, broadband and WiFi are crucial for improving local life in rural areas.
And they say that an agreement between themselves and Historic England will prevent telecoms companies from installing any equipment that will "affect the character and architectural or historic significance of churches".
The Bishop of Chelmsford, Rt Revd Stephen Cottrell explained: "Rural churches in particular have always served as a hub for their communities. Encouraging churches to improve connectivity will help tackle two of the biggest issues rural areas face – isolation and sustainability.
"The Diocese of Chelmsford has been pioneering this approach with County Broadband since 2013. Our work has significantly improved rural access to high-speed broadband."
MAIN IMAGE: Jack Pease Photography/CC BY 2.0