Facebook takes on Twitch with Dota 2 gaming for ESL One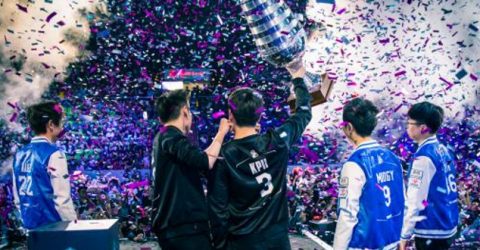 Facebook has taken over online gaming to become the new home for the world's largest e-sports company ESL One.
Germany's ESL One runs pro gaming competitions in stadiums all over the globe.
Teams compete in hugely popular live competitions taking on multiplayer games Defence of the Ancients 2 (Dota 2) and Counter-Strike Global Offensive (CS:GO).
The new gaming partnership is a direct challenger to Twitch and Google's Youtube Gaming as the social media giant tries to take a slice out of its competitors' profitable live streaming markets.

And non-gamers could be seeing more streams appearing on their personal News Feeds.
ESL One will get the opportunity to cross-post to the Facebook Pages of professional gaming teams and players, distributing the gaming streams to a wider audience.
A Brave New World
While Facebook has been focusing on expanding its online gaming operation since Facebook Live expanded from mobile to the desktop app in March 2017, this partnership marks the first deal signed with a professional gaming company.
The first event to take place under the new Facebook-ESL partnership happened in Genting, Malaysia, from 23 to 28 January 2018.
All the English language streams for ESL One events, including the CS:GO Pro League are now exclusive to Facebook. That means no more English streams will be available on Twitch or Youtube.
Not all fans are happy, and have criticised the number of viewers on Facebook's live streams, as well as venting about the lack of mobile access. On the first day of the competition the livestream peaked at just 7,000 fans.
Team Newbee crowned
16 teams took part in the Dota 2 Minor competition, competing for a share of the $400,000 prize fund.
Chinese winners Newbee bested their Dutch opponents Team Liquid in the grand final to lift the ESL One trophy in the Arena of Stars.
BLACK HOOOOOLE!!!
We've been waiting for the Naga-Enigma combo all game and one was all it took for @ViCi_Gaming to GG out!@NewbeeCN lead 1-0!https://t.co/RUTJQiyOsP pic.twitter.com/0v76rdlUTo

— ESL Dota2 (@ESLDota2) January 26, 2018
Hans Oelschlagel, Editor at ESL Gaming, wrote how Facebook would offer full English and Portugese coverage for the CS:GO Pro League and the ESL One circuit.
He said: "One of the key components that brought this project to fruition was the recent introduction of Facebook Watch. With it, Facebook has not only introduced a structured platform for video distribution, but also implemented technological upgrades that esports audiences have grown to expect, such as streaming in 1080p/60fps and VR."
Big audience, big profits
The Esports Charts estimate the global livestreaming audience for the Genting tournament at over 2.6 million.
Around 90,000 people watched the final from the UK, with around 96,000 Russian viewers and 2.3 million Chinese viewers.
Valve, the gaming company behind Dota 2, brought in a new tournament structure of Major and Minor events for the 2017-2018 season.
Instead of funding and running Major events itself, Valve now certifies gaming competitions as Major or Minor depending on the prize money on offer.
Majors attract over $500,000 while Minors offer a fund of $150,000 or more. In both cases, Valve matches the fund on offer with a six-figure contribution of its own.
Facebook hope the link-up with ESL One will make live gaming content more easily accessible its 2 billion monthly active users.
The next live tournament broadcast starts on 13 February for the CS:Go Pro League Season 7.
MAIN IMAGE: Team Newbee lift the Genting trophy/ESL One