Openreach FTTP plan will add £7 a month to broadband bills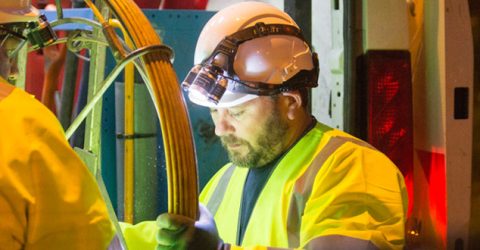 A plan by the UK's main infrastructure engineers to rollout more fibre to the premises (FTTP) could end up costing the average user more than £7 a month in higher bills, Ofcom warns.
The telecoms regulator was responding to news that Openreach want to install far more gigabit-ready broadband across the UK.
Gigabit or full-fibre broadband – which offers stable download and upload speeds of up to 1Gbps – is already available from the likes of challenger alt-nets Gigaclear and Hyperoptic.
But while both have done the hard yards of installing and managing their own full-fibre networks, mainly in rural and underserved areas, they are much smaller than other ISPs. Gigaclear, for example, hopes to reach some 295,000 homes by the end of the decade.
MoreGigaclear raise £111m for rural gigabit broadband
Ofcom Chief Executive Sharon White hit back at news that Openreach wants to bring gigabit fibre to the premises to 10 million homes and businesses by 2025 – at a cost.
In this speech to Virgin Media execs in Birmingham White criticised the plans which are "dependent on up to £7 a month being added to broadband bills."
Openreach Chief Executive Clive Selley said the company came to the decision to accelerate FTTP after months of consultation with the likes of Sky, Virgin and Vodafone.
He said: "We believe that under the right conditions we could build FTTP connections to 10 million homes and businesses by the mid-2020s.
"We want to do it, and we think it's the right thing to do for the UK, but it's clear we can't do it alone, so I'm encouraged to hear that our wholesale customers support our vision."
But because Openreach own pretty much all of the UK's fibre broadband lines and lease them out to Sky, TalkTalk, Plusnet and the rest, the cost implications of such an FTTP rollout could be massive.
Ofcom forced a major shift in the broadband industry by legally splitting up Openreach from BT back in March 2017.
While it may have looked good for competition on paper, in reality it means that BT can bat back any criticism of Openreach and effectively say: "Not our problem any more".
The UK is well behind Europe on full-fibre products, says White. While most of us rely on Openreach's decades-old copper connections, seven in 10 people in Spain and Portugal can access full-fibre broadband.
As of November 2017, only around 3% of the UK population can get full-fibre or gigabit broadband.
But it is proper competition that will drive the UK's numbers up, says White.
And it must not come at the expense of higher bills for customers. Ofcom's plan is to force BT to open up underground tunnels and telegraph poles to rival operators so they can install their own fibre networks. White says at the moment around 90% of these places have space in them to lay new fibre-optic cable.
At these less costly levels there is at least a business case for full-fibre on a nationwide scale.
But whether Ofcom can balance the need to enforce cheaper bills as well as encourage massive investment remains to be seen.
Need help switching? Enter your postcode and find the best deals available to you