Sky Q box adds Spotify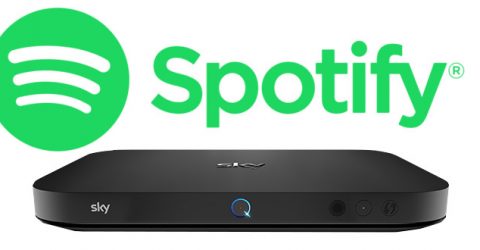 From spring 2018 all Sky Q customers will have access to Spotify content directly through the Sky Q platform.
This deal brings Spotify's gigantic music library of over 35 million songs to the UK's most extensive entertainment platform.
The free, ad-supported version of Spotify will be available to all Sky Q customers on launch.
A premium Spotify account will be needed to avoid frequent interruptions from adverts and, unlike the Netflix deal, the cost of a Spotify subscription will not be bundled into your Sky bill.
Sky Q is an ambitious attempt from Sky to merge the worlds of broadcast TV and internet streaming services into a single, streamlined product.
Box it up
Sky Q comes in two main types.
The 1TB version can record three shows while you watch a fourth, offering storage of up to 500 hours of standard definition content.
Its bigger brother, a 2TB version, comes with storage for up to 1000 hours of video, TV and films, with enough power under the hood to record six shows while you watch a seventh. The 2TB box also comes with Bluetooth, Sky Q Touch remote and can support Ultra HD content on multiple devices in the same home with Sky Multiscreen.
Sky has been making a big push to innovate and expand on the Sky Q platform, with upcoming plans to implement personalized recommendations calculated from customers' viewing habits, and extending the functionality of the system's voice-activated commands.
A new partnership with Netflix, revealing plans to bundle and integrate Netflix content directly into the Sky Q interface.
Live TV, on-demand content, pre-recorded shows, and now Spotify music and playlists can all be enjoyed simultaneously across multiple devices both in and out of the home.
The news of Spotify's partnership comes shortly after the launch of the Sky Soundbox – the company's first venture into branded audio products.
The Soundbox is a compact all-in-one audio system, designed to be used both as a TV soundbar and a HiFi music speaker.
Manufactured by Devialet, the Soundbox provides a high-quality audio experience for as little as £249 to Sky Q customers (and for a whopping £800 to non-Sky customers).