Watch Netflix on Sky Q with major update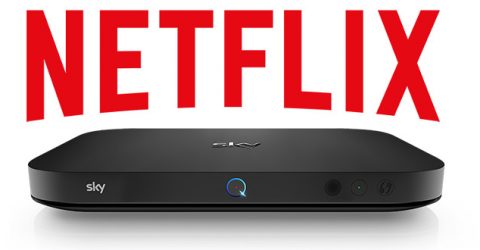 A new partnership between two of the world's biggest streaming rivals is in the works, and soon you'll be able to watch Netflix on Sky Q, the broadcaster's smart TV box.
The deal brings Netflix's full catalogue to the Sky Q service and the app will be fully integrated into the Sky Q platform, unlike Sky's own streaming service Now TV.
No need to login
Netflix content will be displayed seamlessly alongside Sky's own programming in the Sky Q user interface.
Now that Netflix content will be added directly into Sky Q, there will be no need to open a separate app or login to your Netflix account.
This lets customers to effortlessly switch between live TV broadcasts, on-demand Sky content, and Netflix programmes – all from the same screen.
Sky Q is Sky's premium platform, a "next-generation TV service" that allows for simultaneous viewing across multiple devices, both in the home and on the go.
It's powered by a stack of hardware, including the Sky Q Box, Sky Q Mini boxes and Sky Q Hub broadband router, all held together by the Sky Q app.
The app itself is an entirely resigned platform from Sky's previous service, with a menu system built to streamline all your entertainment choices into a single, easy to read interface.
How to watch Netflix on Sky Q
In addition to the app integration, the cost of a Netflix subscription will be bundled into your monthly Sky bill.
A standalone Netflix app will also be integrated into Now TV branded streaming devices, such as the Now TV Smart Stick.
Netflix has been doubling down on its original content lineup, with recent big-budget blockbuster releases: Mute  Will Smith's fantasy version of Los Angeles in Bright, and the third in the loosely-related sci-fi series The Cloverfield Paradox.
Although these movies failed to find much critical acclaim, Netflix managed to scoop up its first Academy Award, winning Best Documentary with Icarus.
Details on pricing, availability and a release date are yet to be announced.
Further information will be available when the service is close to launching.
Customers in the UK and Ireland will see a release some time in 2018, but Sky has only said that this will come "in the coming year".
Other European launches in Germany, Austria and Italy are set to follow later in 2018.
Find the best broadband deals right now