500,000 sign up for free Edinburgh WiFi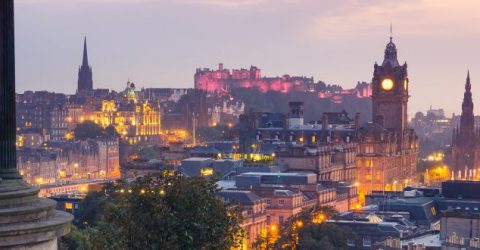 After a mobile broadband firm donated free Edinburgh WiFi in December over half a million people have now taken advantage of the offer.
The Scottish capital has notoriously patchy internet, especially around the Old Town of the city centre, with its winding medieval streets and Reformation-era stone buildings.
For Christmas and New Year 2017 IntechnologyWiFi stepped in to redress the balance, setting up small cell technology on lamposts and roofs to broadcast a fast wireless internet signal across the skyline and down into the shopping and entertainment areas.
More: Edinburgh WiFi gets big boost for Christmas and New Year
Now the Harrogate-based company report that over 500,000 people signed up to their free WiFi service.
Hogmanay celebrations saw pop star Rag n Bone Man join Huey Morgan of the Fun Lovin Criminals on stage to bring in the New Year.
Normally the vast numbers of revellers descending on Edinburgh puts an uncontrollable strain on the region's 4G, mobile and fixed-line networks.
It leaves party-goers unable to connect as hundreds of thousands all flood these networks at the same time trying to make calls, or upload photos and videos to Facebook and Twitter.
But IntechnologyWiFi's 'smart cities' idea seeks to cover the entire of a city centre with a blanket of free coverage which is available on mobile or laptop.
Over 1,300 people a day signed up to IntechnologyWiFi's service.
Social-obsessed teenagers and millenials made the bulk of the new sign-ups with 196,000 15 to 24-year-olds taking up this free Edinburgh WiFi.
Inner city students and commuters take second spot on the most downloaded list with 140,000 25 to 34-year-olds registering.
he network is central to the City of Edinburgh Council's plans for growing the city economy and encouraging residents and visitors to stay longer and increase their spending.
Cllr Gavin Barrie, Housing and Economy Convener at the City of Edinburgh Council, said: "It is great news that so many residents and visitors are benefitting from free WiFi while they are out and about in Edinburgh. "This project is central to our plans for growing the city's economy and encouraging residents and visitors to stay longer and increase their spend."
IntechnologyWiFi's access points span key locations in the city centre and the network has now been expanded to include the 12th-century Edinburgh Castle, giving thousands of visitors fast internet access on the Castle Rock hill and paved areas outside the historic fortress.
More details on how to log in, along with a coverage map, are available at www.EdinburghFreeWiFi.com.