BT Sport could drop Premier League – football on Facebook?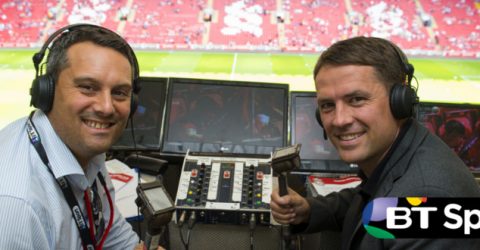 BT Sport's multi-billion pound outlay on the streaming rights to Premier League football could pave the way for streaming giants Facebook or Amazon to take over, the Financial Times reports.
£3.8bn of shareholders' money has gone into BT Sport since its outrageous scoop in 2012, as it laid out £246m a year to show 38 top-flight matches.
The ambitious app also has exclusive coverage of this year's Ashes, as England battle hosts Australia in the cricket grudge match to end all grudge matches.
The lack of terrestrial cricket has angered many fans in the same way as Sky Sports did when they took over football broadcasting rights from ITV in the late-1990s.
While EE has been giving away the BT Sport mobile app for free with its phone contracts, it's limited to your phone – no casting to the TV allowed – and even BT broadband customers have to pay £3.50 extra a month to get BT Sport.
And BT Sport is not driving new customers to the brand.
So as the parent company faces an enforced split from Openreach, record Ofcom fines of £42m, a share price a third lower than in 2016, and mounting customer complaints over broadband, it's understandable that BT top brass want to pull back from another massively expensive football deal.
The Financial Times report that at a conference in Spain in late November, Chief Executive Gavin Patterson told investors that BT wanted to stay a "strong number two" behind Sky Sports.
He added: "We have a plan B."
That plan seems to be to move away from an at-any-cost budget for the rights to show Premier League from 2019 to 2022 when the auction rolls around in February 2018.
BT paid £900m in 2013 and a further £1.2bn in 2016 for three more years of European football. It also owns the rights to the FA Cup, MotoGP and the Ultimate Fighting Championship.
But the huge (we presume – they don't list audience figures) success of Amazon Prime – which won plaudits for reprising the roles of ex-BBC Top Gear stars James May, Jeremy Clarkson and Richard Hammond for 2016's The Grand Tour – and rival Facebook, could see the streaming giants dip their toes into English football.
Facebook's aggressive acquisition strategy puts them first up when it comes to snapping up the rights.
Chief Executive Mark Zuckerberg is desperate to further monetise the social media platform and with massive figures for Facebook Live the cash is there for the taking.
78% of those already signed up to the service have watched Facebook Live broadcasts from a friend or family member, while 45% said they would pay for exclusive on-demand Facebook content from a favourite team.
It is, after all, the most lucrative league in the world.