'Swatting' prank in Call of Duty spat sees father-of-two shot dead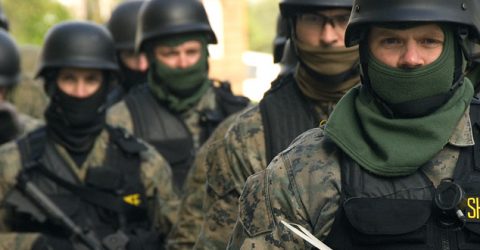 A prank call inspired by feuding fans of war shoot-em-up Call of Duty led to the fatal shooting of a 28-year-old father of two.
Andrew Finch was caught up in a hoax call to emergency services in his home town of Wichita, Kansas that saw armed police surround his house.
Audio of the call revealed a man claiming to have shot dead his father with a handgun then dousing his family home in petrol.
Swatting
Police confirmed that the "nightmare" scenario was a "deadly encounter" that stemmed from a joke gone wrong.
Armed police responded to the call and surrounded Mr Finch's home address.
Police said Mr Finch failed to follow their instructions and was shot dead after seeming to reach for his waist. It transpired later that the victim was unarmed and unrelated to either man involved in setting up the hoax.
'Swatting' is a popular prank that surfaced on internet message boards and is reportedly a particularly common threat among online players of Call of Duty.
It involves calling the emergency services with a faked report of violence at someone else's address in an attempt to get an armed police response.
It derives from the US police's armed response team, known as SWAT, an abbreviation of Special Weapons and Tactics.
Cybersecurity researcher Brian Krebs, who has himself been the victim of swatting, tracked down the perpetrators via Twitter.
On social media, Krebs revealed that the fatal shooting stemmed from a dispute that had escalated between two Call of Duty gamers.
Mr Krebs said that the perpetrator then contacted him online and told him "bomb threats are more fun and cooler than swats in my opinion and I should have just stuck to that."
Police have since arrested a 25-year-old man in Los Angeles named as Tyler Barris in relation to the shooting incident.
Local reports said that Barris had previously been charged with making bomb threats to a radio station in 2015.
The phenomenon of swatting has been on the rise for some time now and the FBI estimates there are more than 400 cases annually.
MAIN IMAGE: Wikipedia/CC BY 2.0