CityFibre Aberdeen: Schools and libraries go gigabit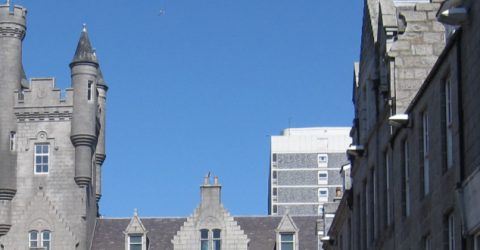 Schools, libraries and community centres across Aberdeen are getting a gigabit broadband connection from challenger network CityFibre.
In total 57 council-owned sites in the city will be linked up to CityFibre's full fibre internet, boasting 1Gbps downloads and uploads.
Aberdeen Royal Infirmary will also get better internet access as it is linked up to CityFibre's network.
Aberdeen was the first Scottish city to sign up for CityFibre's Gigabit City network in March 2015.
The network currently extends over 80km from Bridge of Don in the north, through the city centre to Tullos in the south. When complete, 166 council-owned buildings will be connected in a 100km loop.
Only joking
While some wags have suggested this better internet connection should speed up council services, it's not immediately clear if the upgrade will get your bins emptied quicker, get your children into better schools, or fill in potholes any faster.
Still, any network better than Openreach has to be a step in the right direction.
While it might make us sound a little cynical, we'll be watching CityFibre Aberdeen closely to see if councils are locked into long and expensive PFI-style contracts or taxpayers end up footing the bill for these upgrades.
CityFibre is a privately funded business with big plans for expansion. In July it announced it had raised £200m from a share issue and other investment.
Nottingham and Leicester were the last cities to get access to this next-generation network.
Offering sound council
The leaders of Aberdeen City Council for their part appear delighted with the arrangement.
With political will failing to support libraries and cultural centres in the north of England, it's another boost for Scottish arts and education.
CityFibre has now invested in 42 Gigabit Cities across the UK, including Leeds, Nottingham and Edinburgh with a further 8 expected by 2020.
MAIN IMAGE: Bernt Rostad/CC-BY 2.0