Classic 'turn it off and on again' advice as EE broadband down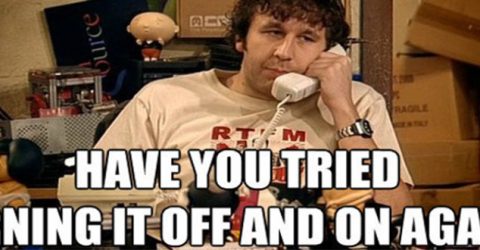 EE have channelled the tech advisors from hit Channel 4 comedy The IT Crowd by offering frustrated customers advice to turn their routers on and off again.
EE broadband went down across the UK at around midnight on Monday 28 August, with thousands seeing their internet online but websites unavailable throughout Tuesday morning.
Speaking to the BBC, a spokeswoman for the BT-owned company said that the fault had been fixed, but individuals might still need to hit the on-off button on their router to get the internet back.
On Twitter, EE's customer service advisors offered the now-infamous advice.
The IT Crowd gained fame for portraying two disaffected IT tech support workers whose solution to every computer problem was to "turn it off and turn it on again".
Users reported to EE that going into their Domain Name Server (DNS) options and changing the settings had solved the problem.
If there are problems with DNS users can be online but can't access any websites.
"We've resolved an issue that has been affecting some of our broadband customers this morning," a spokeswoman told the BBC.
"Any customers still having trouble getting online should try turning the power to their router off and on again.
"We're sorry for any inconvenience this has caused."
MAIN IMAGE: Quickmeme.com