Germany just fixed broadband speed lies, so why can't we?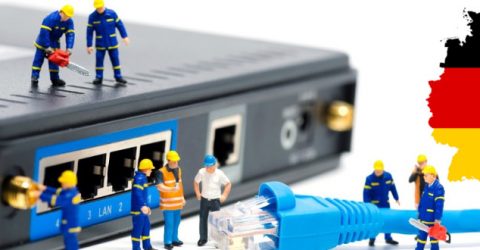 A German internet regulator has just proved it is possible to make ISPs only sell broadband speed that all of their customers can actually get.
Sadly, it's the case in the UK that 90% of people with broadband never get the speed they were sold.
This is because ISPs in this country, like BT and Sky, are allowed to sell broadband packages with 'up to' speeds – you will have seen these types of ads when comparing broadband deals.
But our European cousins are showing our own government exactly how the broadband market should work.
German broadband regulator Bundesnetzagentur has tightened the rules so their ISPs can only advertise the minimum, normal and maximum speeds that customers can expect.
German ISPs must now ensure:
The customer gets 90% of the maximum broadband speed at least once.
The normal speed is available at least 90% of the time.
The customer's broadband speeds never fall below the minimum speed.
When you sign up to a broadband deal in the UK, you'll be offered a broadband speed of 'up to 17Mbps' if you're buying the slowest, cheapest ADSL packages, all the way to 'up to 300Mbps' for Virgin Media's Vivid 300 – the fastest widely-available broadband on the market.
Guide: What broadband speed do I need?
But as we say above, most people won't get these top-line broadband speeds in their home.
In a fiery Parliament debate on in March 2017, angry MPs lambasted the state of the UK broadband industry.
Conservative MP Matt Warman brought the debate forward.
Over in Germany, if an ISP fails to deliver the speeds they've sold to a customer for over 48 hours or more, they will be breaking the rules.
In this case, the German customer would be free to switch to another ISP without any extra fees.
Guide: Fibre, ADSL or cable broadband? Which is best?
That's all well and good for Germany, so why can't the UK, and Ofcom in particular, force its ISPs to match this level of transparency?
Ofcom has recently tightened its own rules about broadband speed adverts, but they're far away from what our consumers clearly need.
MoreBroadband speed ads are a fraud says MP
Until recently ISPs were allowed to advertise maximum speeds that were available to just 10% of customers.
Now, ISPs can advertise maximum speeds available to 50% of customers, which still leaves half with broadband slower than what they've been promised.
Although the rules force ISPs to stamp an 'up to' onto every speed they show, 84% of customers are unaware of exactly how lenient the advertised speeds really are.
When the 50% rule came into force, the Secretary of State for Digital, Matt Hancock MP, proudly announced: "So-called 'up to' speeds that only need to be available to 10% of consumers are incredibly misleading, customers need clear, concise and accurate information in order to make an informed choice..I'm pleased this is being put right."
Unfortunately under these new rules things are only being "put right" for half of us.
With Ofcom's recent rule change it's unlikely that we'll see any further action from our own regulator anytime soon.
Here at BroadbandDeals.co.uk we'll try to help with regular explainers and FAQs to demystify this tricky topic.
It's all so you can find the best broadband deals, as well as digging deeper to find the real speeds you can actually get.
Ofcom do provide your current best option – this online coverage checker map – to see what broadband speeds real people are getting in your area.