Watch: Millions could get instant compensation for broadband
Tearing your hair out over bad broadband, delays or missed appointments could be a thing of the past with new compensation proposals launched by Ofcom.
A £185 million fund expected to come out at the end of 2017 will finally compensate millions of UK customers for problems with installing broadband or poor service.
You could get up to £30 compensation every time an engineer misses an appointment to install your broadband.
Or £10 a day if your landline or broadband goes down and it's not fixed on time.
And you won't have to spend hours on the phone arguing with your provider to get properly paid.
Ofcom hope the proposals will force the biggest ISPs like BT, TalkTalk, and Sky to bring in better rules for helping customers get compensation.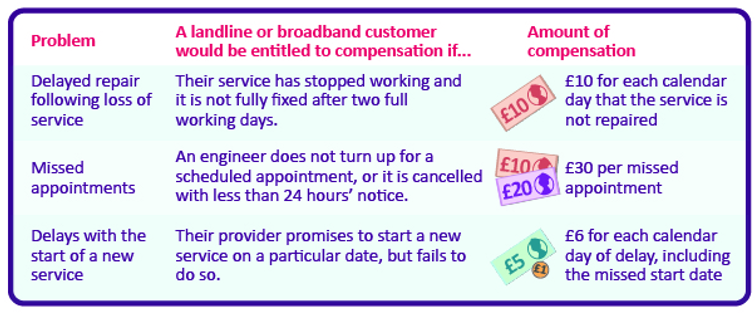 A quarter of people who have had a missed appointment said they took a wasted day off work to wait for an engineer.
New research show engineers failed to turn up for a staggering 250,000 appointments.
Unhappy with your broadband? You're not the only one
Taken a holiday from work and then sat there all day waiting for the engineer to fit your broadband or phone line?
Repeat visits because they "brought the wrong part"? Hours spent without internet even though you've specially paid for fast broadband? Sound familiar?
These common complaints will now be covered by the pot of compensation cash.
Every year Ofcom deals with 5.7 million complaints from customers who have had problems with landline or broadband services.
And one in every eight broadband installations were delayed, affecting more than 1.3 million people.
MoreTalkTalk accused of blocking broadband compensation
At the moment, compensation payments are only given to around 15 per cent of people who complain. This amounts to payments of just over £16 million.
Ofcom's latest plan would increase these payments more than tenfold.
No need to battle ISPs – compensation for broadband 'should be automatic'
Ofcom say it you experience difficulties you should be paid back automatically, as a cash payment or a credit on your bill.
Landline and broadband customers should be covered, no matter who your provider is.
Ofcom report that 88 per cent of residential landline telephone users and 87 per cent of fixed broadband users were satisfied with their service in 2016.
83 per cent of small businesses were satisfied with their landline service but just 69 per cent were happy with fixed line broadband.
Compare business broadband and all the best deals here
That leaves three in ten UK businesses unhappy with broadband delays, missed appointments or problems setting up their service.
Proposals launched today mean an extra 2.6 million broadband customers in the UK would be reimbursed for unacceptably slow service.
Exclusive: Why broadband speed ads are fraud – Matt Warman MP
A consultation launches on 5 July 2017 and the regulator will rule on the findings by the end of the year.
You could now get compensation for broadband if:
Your landline or broadband is not fixed quickly enough after it has stopped working
Your new landline or broadband service is not up and running on the day promised
An engineer doesn't arrive for an appointment as scheduled.
More: £880k overcharging fine for Plusnet
It's a recognition, finally, that many consumers are getting a raw deal from broadband providers.
In the last month alone BroadbandDeals.co.uk has reported on several firms being handed huge fines for overcharging tens of thousands of customers.
There's also the thorny issue that nine in ten people can't get the broadband speed they're being sold.
This practice is currently perfectly legal.
Read: 40,000 ht by EE overpayment scandal
Lindsey Fussell, Ofcom's Consumer Group Director, said: "When a customer's landline or broadband goes wrong, that is frustrating enough without having to fight tooth and nail to get fair compensation from the provider.
"So we're proposing new rules to force providers to pay money back to customers automatically, whenever repairs or installations don't happen on time, or when people wait in for an engineer who doesn't turn up.
"This would mean customers are properly compensated, while providers will want to work harder to improve their service."
Check and compare the best broadband you can get near you