BT accuse TalkTalk of blocking broadband compensation
The chief executive of BT's consumer division has accused rival TalkTalk of scuppering plans for an industry-wide broadband compensation scheme.
Ofcom launched plans in March for a £185 million compensation plan to instantly reimburse customers who suffer from failing broadband.
Ofcom want providers to pay out up to £30 compensation every time an engineer misses an appointment to install broadband, or up to £10 a day if your landline or broadband goes down and it's not fixed on time.
MoreMillions in line for compensation over broadband delays and failures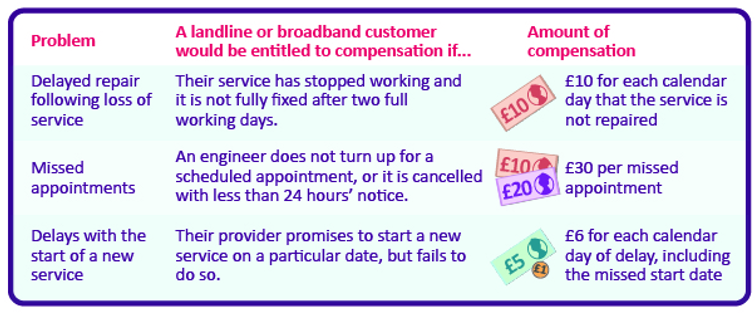 But according to a 16 April piece in the Sunday Telegraph, BT's John Petter told a group of regulators that TalkTalk had refused to put their name to a voluntary code of practice.
Mr Petter is quoted as saying: "There's one provider that's resisting this, it's TalkTalk. If there's anyone here from TalkTalk, please come on board and back the code of practice please."
Three of the largest UK broadband providers: BT, Sky and Virgin Media, have reportedly agreed in principle to give cash back to customers under a voluntary scheme. But Mr Petter said it was TalkTalk that was holding up the process.
Every year Ofcom deals with 5.7 million complaints from customers who have had problems with their landline or broadband services.
And one in every eight broadband installations were delayed, affecting more than 1.3 million people.
At the moment, compensation payments are only given to around 15 per cent of people who complain. This amounts to payments of just over £16 million.
Ofcom's plan would increase these payments more than tenfold.
A consultation launches on 5 July 2017 and the regulator will rule on the findings by the end of the year.
TalkTalk were contacted for comment in response to the Sunday Telegraph piece and Mr Petter's remarks, but declined to make a statement.
Lindsey Fussell, Ofcom's Consumer Group Director, said when the plans were launched: "When a customer's landline or broadband goes wrong, that is frustrating enough without having to fight tooth and nail to get fair compensation from the provider.
"So we're proposing new rules to force providers to pay money back to customers automatically, whenever repairs or installations don't happen on time, or when people wait in for an engineer who doesn't turn up.
"This would mean customers are properly compensated, while providers will want to work harder to improve their service."