Gigabit train WiFi plan is the end of the line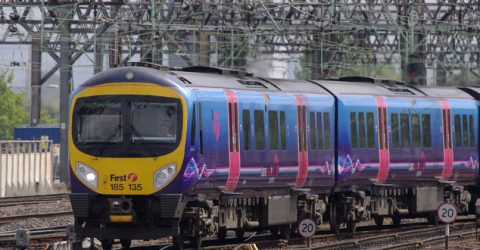 Gigabit train WiFi for your journey to work is coming. Soon. Or not soon. Which is it?
Shoddy signal for calls, data and mobile broaband puts up serious roadblocks for commuters who want to work and passengers who like to enjoy their train journey – but that's all set to change.
Government plans announced this month reveal plans to install more mobile masts and fibre optic cables – the kind that deliver your home broadband – alongside rail tracks up and down the country.
The proposals could allow hundreds of passengers on board to stream 4K video simultaneously.
If this sounds a little far-fetched, bear with us.
Dare to dream
Free gigabit WiFi is the holy grail for commuters, with upload AND download speeds approaching 1Gbps, massive bandwidth and zero lag.
In late 2017 ministers admitted that mobile broadband capability on the UK's major roads and rail lines was far too intermittent.
The logic is, that as Brexit hits, big UK infrastructure projects will get more government time because of the huge gains to be had in worker productivity, and the likelihood to being able to invite inward investment from countries outside Europe.
As always with government announcements, it's safer not to get your hopes up.
And buried in the press release is the mea culpa that it won't happen BEFORE 2025.
Why is train WiFi so rubbish in the UK?
Mobile broadband for train passengers is mostly produced by the four big UK mobile phone networks: EE, O2, Vodafone and Three, operating from mobile masts nowhere near the train lines.
This means coverage is often patchy, and in many places, non-existent.
Wherever signal is usually poor – in rural areas, in valleys or parts of the UK remote from major cities, train WiFi is usally terrible as well.
To boost connectivity up to a level where we could actually see gigabit train WiFi, companies would have to dig new channels to install fibre optic cables along tracks and near tunnels, or mount 4G/5G small cells on masts next to the train line.
By then, we may well have a Labour government under Jeremy Corbyn, the man who wants to re-nationalise the railways. Gigabit train WiFi seems more of a dream than a likelihood under those circumstances.
Still, if there are profits to be had, and massive multimillion pound goverment contracts to bid for, you can guarantee private companies will want a slice of the action.
In Scotland, network provider Cisco is working on Project Swift, a trial to rapidly increase Scotrail WiFi up to 300Mbps.
Scottish commuters have faced years of struggle to connect to in-journey WiFi with the rail company bleating that its service was supposed to be for regular passengers "to check Facebook and Twitter" rather than people actually working.
But now new masts are going up along the route between Glasgow and Edinburgh, and the project runs until March 2018.
Ministers are also looking to future proof mobile broadand on trains to pave way for 5G, the faster and newer version of 4G.
What's next
Work is underway on a pilot scheme for TransPennine Express between Manchester Piccadilly and York.
This is apparently part of a £31bn National Investment Fund, which has earmarked a billion quid to do up Britain's "digital connectivity".
There's a call for evidence going out from the Department for Transport to ask companies to tell them how to best use what resources are already out there to get this underway.
And while Network Rail already owns trackside fibre along parts of the rail network, it is promising to open up fibre, underground ducts, masts and power where gigabit train WiFi could be installed.
MAIN IMAGE: Matt Buck/CC BY-SA 2.0