Gigaclear full fibre reaches 15,000th customer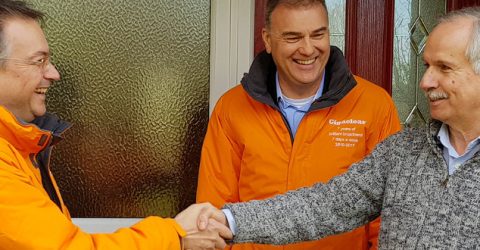 Full fibre provider Gigaclear has hit another milestone with the announcement of its 15,000th broadband customer.
In May 2017 the boutique provider reached its 10,000th customer and secured a £111m investment to improve provision in the countryside.
Gigaclear CEO Matthew Hare says his rural-focused service serves the proportion of the population "largely forgotten" by the likes of BT.
He continues to claim that Gigaclear full fibre will be available in 150,000 homes by 2020 and expansion plans are speeding up, with the next milestone of 20,000 customers expected by summer 2018.
As of February 2018 the Gigaclear network covers around 60,000 homes and businesses across the South West, South East and Midlands.
The first Gigaclear customers were linked up to the service in Rutland in 2011.
15,000 down, 4Mbps up
Management consultant Phil Patrick lives in a village in West Berkshire underserved by the national ISPs (internet service providers).
Working from home means his internet connection is crucial to the running of his business, but Phil remarks on how his copper-based broadband regularly let him down.
Full fibre, not fibre broadband
Gigaclear install their own full fibre networks, so they're not beholden to the speed and reliability that BT Openreach's network can provide.
Openreach lease fibre broadband lines to the majority of national ISPs in two forms: up to 38Mbps and up to 76Mbps. These lines are then sold on to you and I from ISPs like BT, TalkTalk, Sky and Plusnet. This is known as Fibre to the Cabinet.
While fibre-optic cables are used for some of the connection, the last mile from green street cabinet into to the home is usually made up of 175-year-old copper or aluminium, which drastically slows the download and upload speeds available, and means the line is subject to interference from nearby electronics or even bad weather.
More EE switch on 4G home broadband cells – solving slow rural internet?
Full fibre broadband is also a symmetric connection, which means it can provide upload and download speeds that are markedly the same. Openreach's Fibre to the Cabinet network is asymmetric and so you'll see upload speeds reach only a tenth of downloads.
While Openreach does have plans to bring full fibre to 3 million homes by 2020, it's really Gigaclear and the other full fibre providers who are taking the big first steps.
Full fibre broadband gives your home connection a big speed boost: with gigabit speeds you could download a three-hour HD film in under a minute, compared to nearly 2 hours using standard speed broadband.
Who else is full fibre?
Gigaclear has seen strong competition in the full fibre arena from the likes of network builders CityFibre, who signed a £500m deal with Vodafone to install gigabit-capable broadband in cities and metro areas across the UK.
Its closest rival is Hyperoptic, whose boss was made CBE in the Queen's New Year's Honours List for services to broadband.