Gigaclear greenlit for 6,000 Berkshire gigabit homes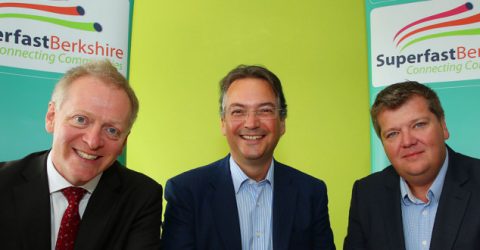 Gigaclear has been given the go-ahead to install Phase 3 of its rollout to bring Berkshire gigabit broadband to 6,000 more homes and businesses.
The tie up with the local council in rural East Berkshire means each address will get access to Gigaclear's full-fibre broadband.
20 minutes to get an email? No more
The independent provider offers 1Gbps speeds from its FTTP network.
It was awarded the council contract to extend ultrafast broadband to 99.5% of the county by 2019.
Gigabit isn't quite 1,000Mbps
While gigabit broadband has a theoretical maximum download speed of 1Gbps, or 1,000Mbps, providers can't promise that these speeds will actually be achievable in the real world.
Just like every other ISP, their lines are subject to electrical interference and will slow down when loads of people pile on the line after work or first thing in the morning.
The best that Gigaclear can guarantee is: minimum upload and download speeds of 50Mbps.
That is guaranteed, however, so if you can't get 50Mbps in your shiny new Gigaclear area, there's much better chance you can successfully complain and even be reimbursed.
Decent broadband is becoming such a staple of modern life that councils are turning to small ISPs who can promise reliable high-speed internet – using that as a key selling point for young families and new businesses.
Councils love 1Gbps or 'gigabit' broadband as it basically ensures residents have a better chance of selling their homes in future.
Berkshire gigabit a big draw for business
Berkshire brewery owner Ed Cowan confirmed that reliable gigabit broadband was a magnet for local businesses.
He said: "We're going through expansion and looking to develop our website, which will be much more complex with a lot more content. This kind of development would have been near to impossible to maintain before. The speeds have really improved the way we run the business."
Since Gigaclear installs its own technology, it doesn't have the problem where the last mile between green street cabinets and the home switches from fast fibre to slow copper wiring.
This fact, which all the bigger providers like BT and Sky have to contend with, slows down the majority of broadband in the UK.
At the moment full-fibre broadband is only available to around 2% of homes and businesses in the UK.
Gigaclear is mopping up these well-funded council contracts, including works on the neighbouring authority to install West Berkshire gigabit broadband under a Phase 2 contract for 12,000 premises.
Gigaclear now covers 13 counties in the UK mainly in the South West, Midlands and South East.
The private firm started in 2010 and this year took on £111m in capital to expand its full fibre network across high-value rural areas in England. The first networks it started were in Rutland and Oxfordshire in 2011.