Hyperoptic boss Dana Tobak made CBE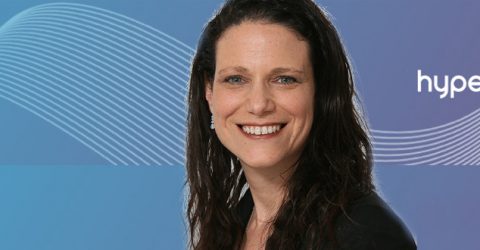 The head of full-fibre broadband challenger ISP Hyperoptic Dana Tobak has been made a CBE in the Queen's New Year's Honours List.
Tobak wins the honour for services to the UK's digital economy.
The American serial broadband entrepreneur was honoured for her commitment to bringing a new kind of fast reliable broadband to wide audiences in the UK.
Hyperoptic is now the UK's biggest gigabit broadband provider with services available in 28 UK towns and cities. Its stated ambition is to provider gigabit-capable full-fibre to 2 million homes by 2022 and 5 million by 2025.
Full-fibre or nothing
At the moment, full-fibre broadband, also known as fibre to the premises or FTTP, is only available to around 3% of UK homes.
The rest of us who have fibre broadband have to deal with a slower, older kind of technology known as fibre to the cabinet or FTTC.
The last part of the connection for FTTC, from the green street cabinet into your home, can be copper or aluminium, which means the line is subject to interference from other electrical devices, and can suffer drop-outs and slowdowns.
By contrast, full-fibre which uses fibre cables for the entirety of the connection making it much more stable.
Hyperoptic sells three kinds of full-fibre broadband and phone deals, promising download speeds of 30Mbps for £22 a month, 150Mbps for £33 a month and the full-throated 1Gbps gigabit connection for £48 a month.
Crucially, full-fibre is 'symmetric' which means you get the same upload and download speeds coming through in your home broadband. That means even on the cheapest packages you will see 30Mbps uploads, compared to the single digit uploads most ISPs can promise.
No other ISP comes close to Hyperoptic's speeds – other than its full-fibre rival Gigaclear.
BT, Sky, Plusnet, TalkTalk and all the other ISPs using the Openreach network can only offer maximum fibre download speeds of 76Mbps.
More: Plusnet promise upload speed boost to 9.5Mbps
Virgin, which uses its own cable broadband network, is the best of the rest with maximum downloads of 300Mbps.
Who is Dana Tobak?
Coming across the pond from MIT with a BA in Economics, Tobak co-founded Be Unlimited, the first of the serious challenger ISPs, back in 2005.
It was originally only available in London, Manchester and Birmingham but under Tobak managed rapid expansion across the UK.
The network focused on providing the fastest possible download and upload speeds using ADSL2+ lines leased from BT. It advertised downloads of 16Mbps and uploads of 2Mbps.
The business was bought out by O2 owner Telefonica a year later before being handed over to Sky for £200 million in 2013 as part of their UK takeover of O2 broadband.
Tobak moved on to co-found Hyperoptic in 2010.
As CEO she has grown the company from two employees to over 200, overseeing major funding from George Soros' Quantum Strategy Fund totalling more than £200 million to transform the business from scrappy challenger to serious competitor.