Let's all praise the Selfie – a true art form?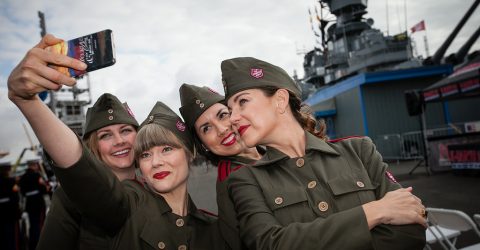 So, what did you do on National Selfie Day? While we at Broadband Deals are currently relaxing after the jollities of the 21st we've reflected on an art-form that is almost 200 years old.
Now we are all aware of the naysayers among us who slap-down selfies as narcissistic, decadent and a signpost of the decline of western civilisation and perhaps they're right. But isn't art also the history of defining the individual and forms of personal expression? And doesn't the selfie fit that description perfectly?
Founded in 2014, National Selfie Day came from the fevered brain of American DJ Rick McNeely from Arlington's Fishbowl Radio Network.
But, National Selfie Day owes a great debt of gratitude to Robert Cornelius, who is widely credited with producing, in 1839, a blurry photograph of his face and upper body that has now come to define what constitutes a selfie.
Cornelius, a US lamp manufacturer and early pioneer of photography had to sit motionless for more than 15 minutes to take the photo – something modern-day selfie takers might have a difficulty with!
Perhaps going one better was all-American hero and astronaut Buzz Aldrin who took a self-portrait in space, declaring it 'the first selfie in space – that was one expensive selfie stick!'
And, of course the greatest selfie perpetrator was Andy Warhol, the ultimate selfie revolutionary.
Of course, this was all before someone figured you could make money from the phenomenon. For savvy retailers the selfie has other uses apart from a need to record your features.
Facial recognition software is becoming ubiquitous in the retail experience. It's estimated that more than 30% of retailers now use some form of high tech selfies to improve the shopping experience.
McDonald's marked National Selfie Day with a promotion handing out styluses so that customers could operate their phones without using their greasy fingers. The promo also included a custom hashtag for selfies and a campaign by Instagram star Kirby Jenner teaching people how to take 'hotter, juicer' selfies.
Samsung meanwhile has introduced the world-changing development that allows you to turn your selfie into your very own emoji.
So, selfie lovers everywhere, you have nothing to lose other than your battery power. Embrace the selfie, embrace yourself and honour a true art form.
Image: Salvation Army USA West