1 in 4 suffer mental health problems from rising household bills
Alarming statistics published this week show that a quarter of UK householders are suffering stress and anxiety from rising household bills.
An R3/Comres survey of over 2,000 people found that personal finances are having a negative impact on 24 per cent of UK households.
Those age 35-44 are most likely to suffer from deteriorating mental health as they worry about debts.
This group are more likely to be paying off a mortgage and have children or even elderly parents to support.
Mark Sands, chair of R3 personal insolvency, said: "Whatever else is going on in the world, things much closer to home are most likely to affect people's mental health.
"No matter how old you are, where you live, or what you do, personal finance concerns have a significant impact on your wellbeing."
Too hard to switch broadband
Back in June 2015 telecoms regulator Ofcom said providers were making it too difficult to switch broadband or phone contracts.
"Ofcom receives a large number of complaints about the difficulties experienced by consumers trying to exit their communications service contract," said Chief Executive Sharon White.
"Taken together, these suggest that communications providers are systematically making it difficult for customers to exit their contract.
"We consider that this allegation is extremely serious, and, if sustained, may result in significant consumer harm within the market for UK communications goods and services."
The R3 research found that while UK interest rates remained at a record low of 0.25 per cent, personal finance concerns still loomed large for many UK families.
"Much more needs to be done to ensure that people are informed about what their options are: with inflation set to rise throughout 2017, personal finance pressures are likely to increase."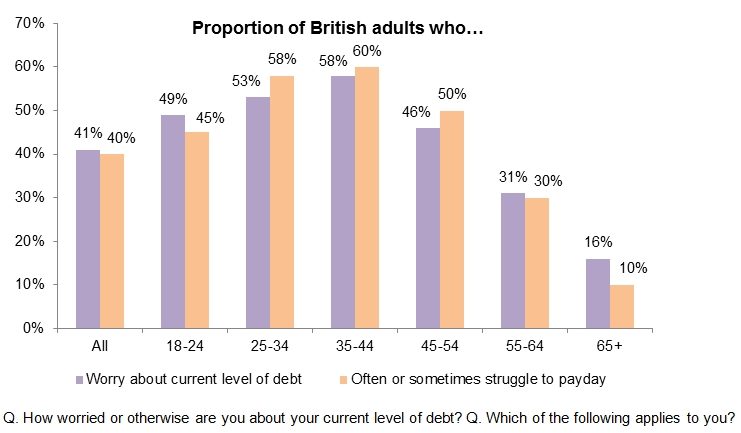 What causes financial worries over household bills?
The survey found that 41 per cent of British adults say they are worried about their current level of debt.
This rises to 54 per cent among those aged 18-44.
Four in ten British adults say they often or sometimes struggle to make it to payday.
MoreBrexit fuels increased personal finance fears
Mark Sands added: "The most likely cause of a struggle with household bills is simply paying for basic goods.
"Over half (55 per cent) of British adults who say they often or sometimes struggle to make it to payday say this is the result of the cost of food: this rises to 60 per cent among those aged over 55.
"Household costs and fuel or transport costs are the next most common reasons mentioned.
"Financial concerns are endemic for a significant proportion of British adults and come from all different directions," Sands concluded.