Everyone in Milton Keynes getting supercharged CityFibre broadband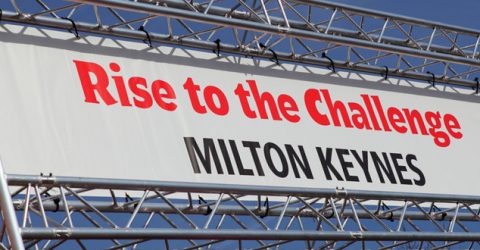 By the end of 2018 almost every single home and business in Milton Keynes will get the choice of gigabit fibre-to-the-premises (FTTP) broadband after Vodafone and CityFibre announced a massive new investment in the commuter town.
Milton Keynes broadband is about to see a speed revolution thanks to a network builders CityFibre.
Announced today is a private £40 million investment to give consumers the option of broadband with download and uploads speeds up to 1Gbps.
Its hoped the advanced fibre network will not only revolutionise broadband to the degree where homeowners are no longer reliant on Openreach's spotty network, but will also give private and public sector businesses a huge advantage when it comes to internet reliability and speed.
FTTP will also be the basis for powering 5G, the next generation of mobile broadband which will take over from 4G.
More: EE 5G hits 2.8Gbps in latest mobile broadband test
Who are CityFibre?
CityFibre are an independent network builder challenging the prominence of the well-established national ISPs.
Because they build and install their own gigabit-capable (1Gbps) and FTTP networks, they can offer faster speeds than the likes of BT, Sky, TalkTalk and Virgin.
They signed a £500 million deal with Vodafone in November 2017 to offer the mobile and broadband provider wholesale access to around 5 million homes across England, Wales and Scotland.
FTTP is currently only available to around 3% of premises in the UK. It is recognised as the 'gold standard' in connectivity for its speed, near unlimited bandwidth and reliability. There are no copper telephone cables involved in the connection, so it is much faster broadband than you can currently buy on the open market.
Currently only Hyperoptic and Gigaclear sell gigabit-capable FTTP broadband to the population at large. It is very postcode dependent and is only available in certain areas.
According to the latest figures from Ofcom, the average broadband download speed across the UK is currently just 37Mbps. So whether you want to play the latest games or download 4K movies, with 1Gbps (1,000Mbps) speeds you'll be able to do so in a fraction of the time.
At gigabit speeds, hospitals will be able to download a 2GB CT scan in just 17 seconds instead of 11 minutes over a standard broadband connection and film fans will be able to download the latest 60GB Ultra-HD blockbuster in 8.5 minutes instead of 6 hours.
Why Milton Keynes?
The town already has around 160km of cables laid which provide full fibre FTTP gigabit speeds.
Work is due to start in March 2018 to extend this network to cover 95% of the homes and businesses in Milton Keynes.
CityFibre said they chose Milton Keynes for the £40 million extension because of its large population and high levels of productivity.
Around 300,000 people live in Milton Keynes. It is also growing faster than the average town or city. Between 2001 and 2013 the number of households increased by 20.2%, compared to the national average of 8.9%.
Customers in Milton Keynes will be able to pre-register for the service from today at with the first live deals available towards the end of 2018.
MAIN IMAGE: DA Warwick Photography/CC BY 2.0