Bum-waggling #EpicStrut advert is UK's most hated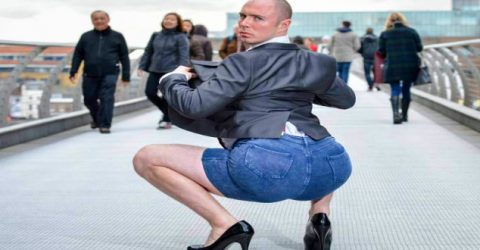 A man selling car insurance while flouncing around in high heels and denim hot pants was the most complained about advert in 2017.
The #EpicStrut and #EpicSquad adverts feature a man called Dave twerking in the street wearing the now-ubiquitous hot pants.
The first variation came in 2015 with a cameo by Sharon Osbourne.
Since then the advert series has grown to include Dave's dance-off with Colin the builder where the larger chap gyrates, does The Worm dance and the splits in front of stunned office workers. And, in an apparent homage to Miley Cyrus, he swings on a wrecking ball.
Last year another version of the ads was launched featuring a bodyguard called Gary, and featuring suited men and women grabbing their crotches. Incidentally, Gary is played by Bronx-B boy Mr Wave who found fame in the 1984 film Beat Street.
Each year the Moneysupermarket ad has topped the most complained list but despite this ASA hasn't banned them.
Last year ASA's Chief Executive Gary Parker said: "In all those cases, we thought people generally would see the ads in a positive light and that the boundary between bad taste and serious or widespread offence had been navigated well enough, often through sensible scheduling restrictions."
In their defence, a Moneysupermarket spokesperson said: "Our ads celebrate that epic feeling you get when you save money at Moneysupermarket and our characters – particularly Dave, the iconic hot pant, wearing businessman, have become part of pop culture, generating countless parodies."
The latest version of the TV advert features He-Man and Skeletor engaged in a Dirty Dancing-style dance-off.
At the time outraged viewers complainaned that #EpicStrut was offensive, overtly sexual, borderline homophobic and could encourage hate crime.
Despite this ASA decided not to ban it on the grounds that it was unlikely to cause serious or widespread offence.
These ads, alongside Comparethemarket's Meerkats and Gocompare's serenading Gio Compario – no matter how cringe-inducing some of us think they are – works by distinguishing them from their rivals and increases brand recognition.
So for them, a smartly-dressed bloke waggling his bum around in the street is more than worth it.
MAIN IMAGE: Harman Turner/Rose